"Desire is the key to motivation, but it is determination and commitment to an unrelenting pursuit of your goal – a commitment to excellence – that will enable you to attain the success you seek."

Mario Andretti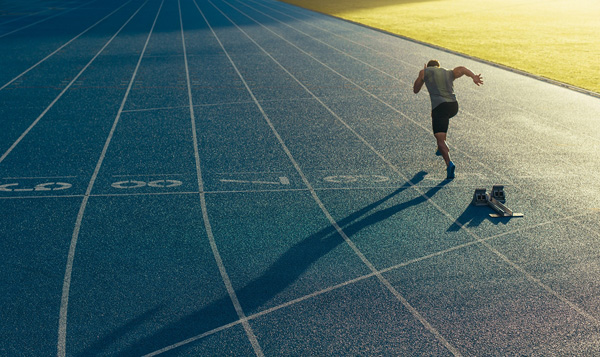 Note: This article was written and published before major improvements were made in late 2018 to Metuf – the name given to the collection of mental skills that we use with our sporting and non-sporting clients. Due to this, the 5th paragraph mentions Commitment, Confidence, Communication, Concentration, Creativity and Consistency. In the latest version of Metuf, these have been replaced by Motivation, Emotions, Thoughts, Unity and Focus. For more information about Metuf please visit The Metuf Online homepage.
This New Year's edition of the Mental Toughness Digest will be the first in a series that focusses on the six C's that make up the often mentioned but rarely understood concept of Mental Toughness. The first C is for Commitment – which we'll explore below – with upcoming editions putting the spotlight on Confidence (and other emotions), Concentration, Creativity, Consistency and Communication.
The first C is for Commitment and in many way as the quote above suggests is the mental aspect of sport and performance which dictates everything else. It's the engine room, the foundation, the catalyst.
Since starting Condor Performance by myself back in 2005 I have given a total of nineteen Australian based psychologists (fully registered and provisional) an opportunity to join our team and work with sport and performance clients from around the world. Yet twelve years later only two of these "originals" remain – Dave and Chris. What is it about my current team that separates them from the fifteen that have come and gone? All nineteen have been intelligent and qualified, all nineteen have spoken about their passion for sport and working with a less clinical population, all nineteen seemed confident at the start but only those that remain have shown real commitment. Due to the client focussed monthly options that our clients choose from, whereby our clients are encouraged to have shorter, more frequent sessions at times that suit them (not necessary us) real commitment gets tested from the get-go. Nothing questions commitment in our line of work quite like sitting in traffic for an hour to deliver a 20 minute session or getting up at 3am to have a coaching conversation with a client from a country whose time zone is 10 hours behind ours.
The cracks tend to start appearing early for those whose commitment is anything other than optimal. Psychobabble alert! Commitment is essentially a synonym of motivation and the scientific literate correctly suggests that a healthy mixture of both internal and external motivation is required to reach optimal. External factors, which refer to rewards such as money (in the case of the example above wages/salaries) or praise from others only get you so far. Ideally, we'd want more than half of the drive to come from internal factors such as enjoyment, self-worth/efficacy, passion and seeing the bigger picture (short term pain but long term gain).
It's this magical combination of internal factors being backed up by external ones that only a few have and becomes quite obvious pretty quickly. Case in point; I remember once calling a staff meeting on a Sunday and the person who lived furthest away (who shall remain nameless) wasn't very well so I gave him the option of not coming. Yet 5 minutes before the meeting was due to commence he arrived coughing and sneezing. He wanted to be there – for himself (internal) and for his colleagues (external) and didn't see why a runny nose and a 90 minute drive should get in the way. It should be no surprise therefore that this performance psychologist is still working with us, is a key member of our team and recently passed the milestone of having started working with his 200th monthly client.
If you're interested in learning more about your own levels of commitment then click here to access our four Mental Toughness Questionnaires (one for athletes, one for coaches, one for officials and one for non-sporting performers). Once completed one of sport and performance psychologists will be in touch without any obligation to then go on to commence one of our 1-on-1 mental toughness training program.