After the last edition of the Mental Toughness Digest, we received a comment from one of our readers that was so insightful and interesting I felt that it required an entire edition in order to properly answer.
" … bad result in the game of course if you're English, but good article! I would add that (related to your points I think) in my view England lacked leadership on the pitch, particularly in the forwards, to react to problems they were facing. I do think the modern professional rugby player tends to be over-coached and, having generally not been to uni or in a 'day job', lacks the leadership and problem-solving skills acquired in those walks of life. Thoughts?"
This comment, of course, was in response to the previous edition of Mental Toughness Digest which took a look at the psychological and tactical elements of the recently concluded Rugby World Cup. I heard during the commentary that the English team had close to 30 members of support staff with them during Japan 2019. In other words for every starting player, there were two members of backroom staff available.
Sport at the highest level can be cruel and I'm guessing that had England taken out the World Cup on 2nd November we would all be congratulating those behind the decision to provide them with so much support. But is more support always a good thing? In having every aspect all the players' lives catered for them are they losing some of the basic problem-solving abilities most "normal" people develop when they are in there late teens and early 20s? This is certainly the premise of the question above from the reader and one that I would like to explore in a little more detail.
I don't mean to use the word normal above to imply that professional athletes are not normal – I work with hundreds of them and most are actually very normal. What I really mean is that their lives are very different from what most people experience – especially in terms of their work.
My professional instinct is that many professional sporting teams have taken the concept of support too far. You might liken it to many variables that could all be placed along a Bell-shaped (normal distribution) curve whereby the far left and far right-hand side are both non-ideal situations with the middle being the sweet spot. As per the below were the Y-Axis would be 'return on investment'.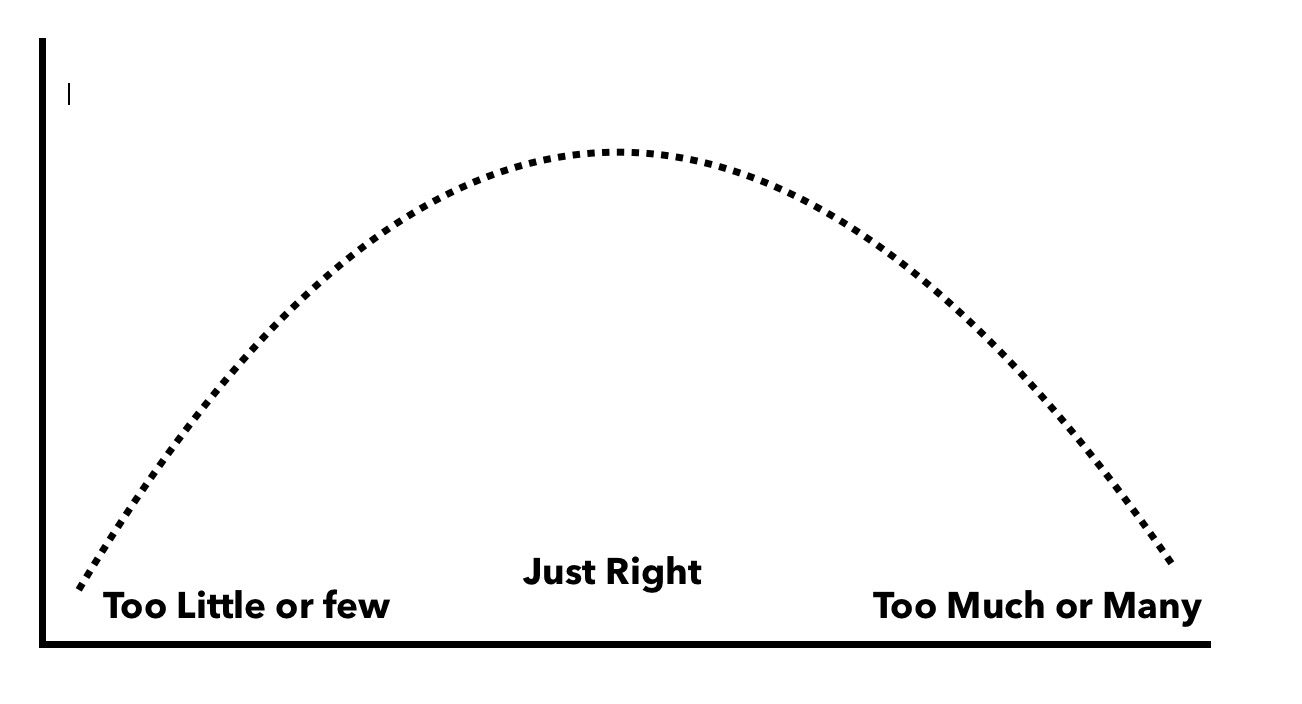 Let us put this into the context of example at hand. If you go back 30 years professional rugby union players did not exist so those that represented their country at the first World Cup (1987) were definitely under-supported.
Although it might be tempting to suggest that the superior time management skills and problem-solving abilities of these bygone players were "all good" due to the fact that most of them had a normal job – it's not quite that simple.
The lack of support for international rugby union players in the 1970s and 1980s made for a very stressful existence. The players essentially needed to keep two full-time employers happy; one that paid their salaries and one that selected them to play for their country.
Some of you may know I was named after the great Welsh scrum-half (halfback/number 9) Gareth Edwards and I'm lucky to have a signed copy of his autobiography taking pride on my bookshelf. In this book, Mr Edwards sums up the difficulty of being an international player in those days: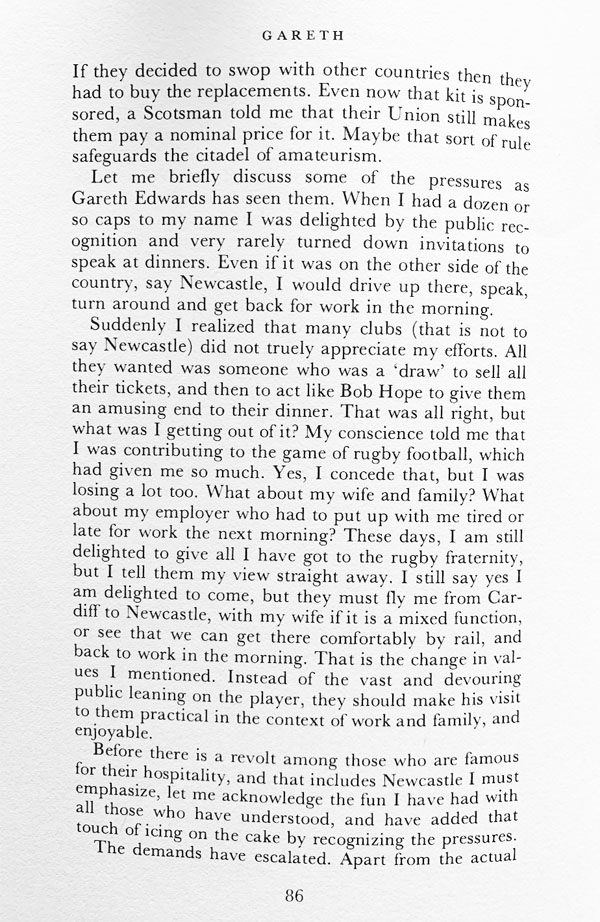 Fast forward 30 years and we have a team that takes 30 coaching/support staff to an international tournament.
Have some teams gone from the far left of the bell-shaped curve to the far right? Have the Springboks, as an example, ended up somewhere in the middle – the sweet spot so to speak whereby they have the essentials taken care of but the players are this still required to do a fair amount on the own?
The really fascinating sub-topic within this discussion is the question about whether or not these highly qualified, highly paid support staff are actually increasing or decreasing the amount of dependancy experienced by the players they are working with?
One of our philosophies at Condor Performance is that we are essentially trying to make ourselves redundant in the lives and performances of our clients from the very beginning.
We feel that it would be psychologically negligent to do anything as sport and performance psychologists that would make one are sporting clients feel like they needed us or depended on us in order to perform well.
Sometimes this means that we complete our job in just 2 or 3 months. To really get a good idea of our monthly approach to sports psychology then watch the below video.
Many years ago I remember having a conversation with our CFO Derek. He expressed concern that this philosophy was counter-productive from profit and loss point of view. Actually, as it turns out, it's mighty helpful as our clients know that we are going to get in there, get the job done and then get out. This increases the possibility that they then recommend us to their friends and teammates.
I'm pretty sure I was right because in 2020 it is likely that for the first time in our history we will require the services of more than 10 sport and performance psychologists.
I do not know enough about how other professionals involved in sport are trained nor do I know enough about how other types of psychologists from other countries are trained but the ones that are fortunate enough to work for us are basically instructed to help their clients become their own mental coach – one that is free and available 24/7.
It is due, in part, to the philosophy that we spend a remarkably small amount of time with our athletes whilst (or just before) they are actually competing. It would be very easy for us to do this given now than 99% of our sessions take place via video conference. A quick FaceTime video session 1 hour before kickoff is far easier in 2019 that it would've been in 2009. But we still generally avoid having too many sessions of this nature. Why? Because we want our clients to be able to problem-solve on the fly when the pressure is on. That is quite literally one of our mission statements.
If I were the head coach of an international rugby union team I would have a very, very small group of support staff that accompanied me and my players to international competitions.
Probably the first two to get a plane ticket would be the physiotherapist and the team medical doctor in order to manage any physical issues that players take into the tournament or pick up during it.
I would also insist that one or two highly skilled massage therapists were in attendance as there are simply no shortcuts to helping players recover from such a physically demanding sport. Due to the fact that in this hypothetical situation the head coach is a highly qualified sport psychologist (me!) then there would probably be no need to take another one.
I certainly wouldn't be taking anybody who is supposed to specialise in the technical aspects of the sport (biomechanics) as all of this would've already been completed well before we left the airport.
As mentioned in the previous article tactics are becoming more and more a part of the "sports psychology" realm (at least the way we define it) but my knowledge of the game might need to be boosted by having an assistant coach who knows the game backwards. This is the role I see former players taking on more and more in the future.
Finally, I would take a professional comedian with us to just hang out with the players and make sure that the atmosphere remains relaxed and light.
Slashing the support staff budget by two thirds would free up significant funds that could be spent elsewhere. How about an annual trip to Mozambique for the players to help out in some of the poorer villages; problem-solving and some perspective all warped up in one.
Last year we wrote an article called The Problem with Privilege which explores these ideas on an even deeper level.