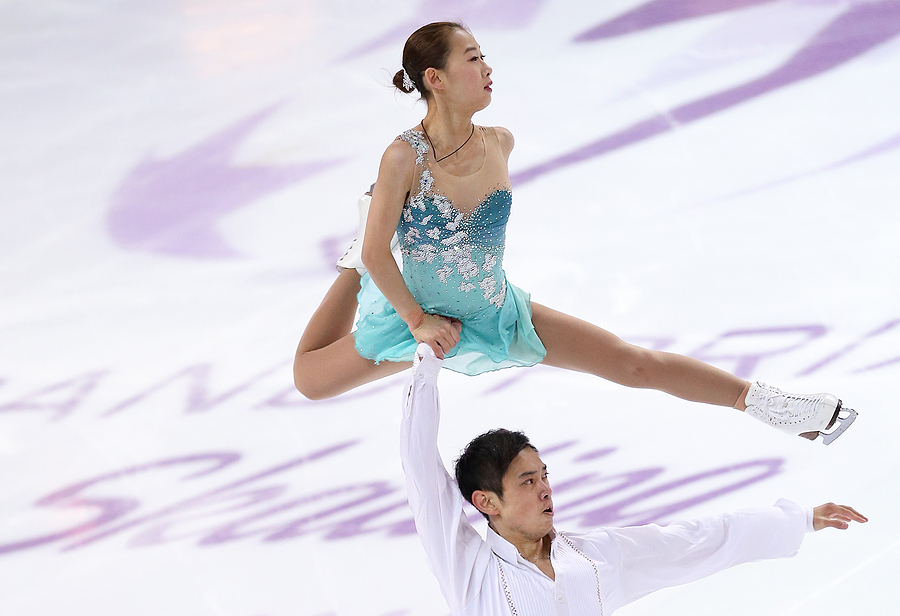 Figure Skating Psychology; Definitions
Whenever the Winter Olympics come around one of my favourite events to watch is Figure Skating. Whether it's the Singles, Pairs Skating or Ice Dance, I can't help but be in awe as these athletes perform what can only be described as superhuman-level stunts. But as I watch in amazement I can't help but wonder how many times they had to fail in training in order to be able to execute their routines so well under competition pressure.
Not only are the physical skills they perform on another planet (see picture above), but the mental toughness they would need to be able to master them and be able to perform them with "ease" on the world stage is off the charts.
Of course, they don't perform these skills with ease – it just looks like that. But part of a Figure Skater's job is to perform intensely detailed and complex movements with speed, precision and artistry, whilst making it look easy. During a routine, you'll see Figure Skaters perform a series of jumps, lifts, throws, spins and footwork, all in an effort to demonstrate their level athleticism and artistry to the judges. But behind every "good" performance sits the numerous unseen falls, injuries (or near-injuries), and the countless times their mind would've told them to hang up the skates and pick an easier sport.
Mental Demands of Figure Skating
It's clear that Figure Skaters, particularly those at the elite level, require a certain mindset. At the end of the day, we're talking about a sport where one of the first things you learn is how to fall properly on the ice without breaking a bone or getting a finger sliced off! But with learning to fall comes needing to learn how to get back up – and not just in a physical sense. The best Figure Skaters in the world are masters of picking themselves back up psychologically.
They have the ability to "move on very quickly" from parts of the routine that did not go perfectly. It's arguable that the ability to do this is what separates the good Skaters from the great ones. They know that a 6/10 "double axel" without showing any disappointment is better than a 7/10 with a drop in body language.
It's important for Skaters to understand that what makes their sport so mentally challenging is the fact that our brain is hardwired for survival. As humans, our default cognitive response (the things our brains immediately crank out in response to a situation) is always going to be a protective one rather than a performance-based one. After falling and bruising our hip, it's normal for our brain to tell us not to try that again. 'What if next time you break your hip?'.
If our partner almost drops us during a lift, again, it makes sense for our brain to say to us "what if he drops me next time and I fall flat on my face?"
The moment we step outside our comfort zone, our brain's default response is to tell us all the reasons we should step back inside it.
In a sport like Figure Skating where the threat of slips and falls are constantly looming, it's inevitable that our brain is constantly going to be on the lookout for all the bad things that could possibly happen.
Committing To The Jump
When our default response is to go straight to the worst-case scenario, it becomes a lot harder for us to commit to doing what we need to do. However, Figure Skaters who struggle to overcome these unhelpful thoughts are in short giving their thoughts the power to do so. When we discuss the power of thoughts with a Skater, there are a few questions we might ask to get the ball rolling in the right direction:
Do we have the ability to think one thing and do another?
Do we have the capacity to do the opposite of what our brain is telling us to do?
Can I perform a jump while my brain cranks out all the reasons I shouldn't do it?
Does the thought, "I'm scared because I might get hurt" physically stop my body from moving?
Does this thought, these words in my mind, physically stop my arm and legs from moving and doing what I want them to do?
As a provisional psychologist currently undertaking supervision with some phenomenal sport psychologists and performance psychologists I know the answer to all of the above is "no". But do you?
We need to recognise when our mind is playing the role of 'protector' and when it's playing the role of 'performer', and develop the capacity to question the power of those thoughts over our actions at that moment. Remember, "they don't hand out gold medals for who was thinking the best".
Overcoming The Fear of Injury
To have the mental skills required for Figure Skating athletes need to become seriously good at committing to the movement, in spite of any difficult thoughts or feelings they have. We need to understand that our response to fear is unique (a combination of predisposed sensitivity to fear and learnt experiences), and will be different to the person sitting next to us. It's important for Figure Skaters to learn to recognise their fear in order to learn to commit to their actions regardless of it.
At Condor Performance we work with Figure Skaters through a mostly ACT (Acceptance and Commitment Therapy) approach. This psychology framework allows performers to notice and accept this natural fear as being a normal part of the human condition. For Figure Skaters who values new challenges, improving their skills and pushing themselves beyond their limits, taking action guided by their values would be to commit to the jump despite feeling fearful and hearing their mind tell them "you have got to be kidding".
Swerving the Subjective Nature of Skating
Another mental challenge for Figure Skaters is the way that scoring is subjective, so there may be a gap between a Skater's own subjective view of their performance and the view of the judges. Because the goal of Figure Skating is to score the highest possible mark from the judges, it's very easy to fall into the trap of focusing too much on outcomes and not enough on processes. For example, getting caught up in whether or not they're going to land that jump, rather than visualising the processes involved in executing that jump (e.g. foot and arm positioning, speed and direction of their movement, height of the jump, etc.).
This can be problematic as outcomes are something we have very little influence over. At the end of the day, we might perform every single process involved in the jump correctly, but with the slightest shift in movement as we're travelling in the air we don't stick the landing. Unfortunately, we can't make our way over to the scoreboard and change the scores ourselves either – when it comes to outcomes, we have no place. The only thing we can influence is what we do on the ice, and we can't commit to landing the jump if we don't commit to the processes first.
This All Sounds Great But I Need Some Help …
We know, some of the above sport psychology suggestions are "easier said than done". So regardless of whether you yourself are actually a figure skater or simply another competitor who has cleverly invested some time in reading an article on another sport (we call this mental cross-training) if you feel like you'd benefit from some professional guidance then we're here to help. Get in touch via one of the methods below, our response time is normally around 48 hours.