Not a climber nor remotely interested in the sport of climbing (rock climbing)? Fear not and read on for the below article simply uses this sport as an opportunity to look into an array of mental challenges and solutions common to many performance areas.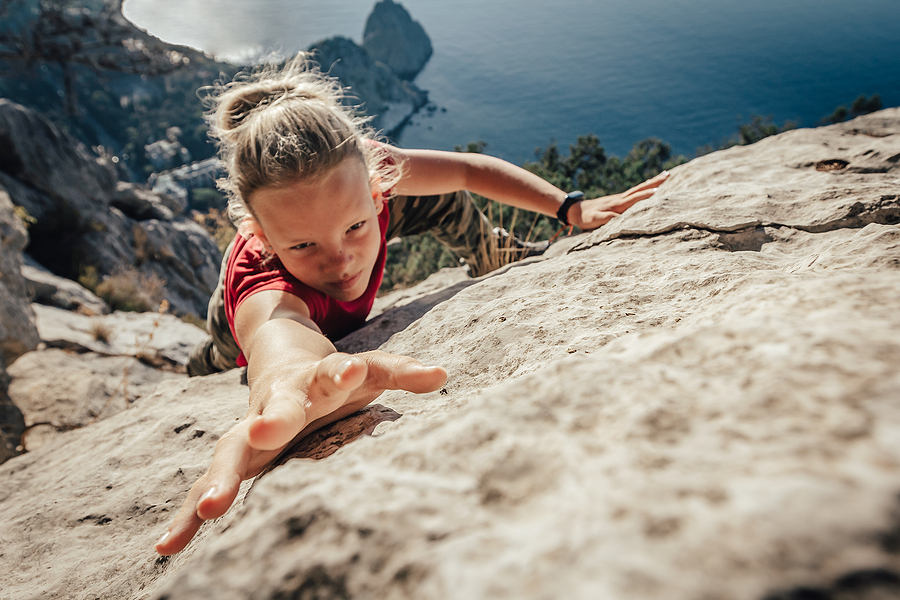 Reaching New Heights Through Mental Toughness Training
The motor skill of climbing is incredibly tough and equally enjoyable. Yes, these two concepts can and often do coexist. Relatively new to the competitive sporting domain, climbing has reached new heights in the last thirty years. It's expanded to include three competitive disciplines (plus a combined event) in which athletes can compete against each other at the international level. Since the first Climbing World Championships in 1991, climbing has grown in popularity both as a recreational and competitive sporting avenue.
Lead Climbing and Speed Climbing have been around from the get-go, with the addition of Bouldering in the early 2000s. The Combined Event was then introduced in 2018. The Combined Event was (controversially) selected as the Tokyo Olympic Games format when the sport made its debut in 2021. Here, athletes are scored based on their performances across all three climbing disciplines. Climbers who were the best in their specific disciplines were therefore not favoured.
Nature of Competitive Climbing
Why was this controversial? Because the three disciplines test unique physical capabilities. In Lead Climbing the goal is to climb as high as possible (15m) within a set amount of time, testing power, endurance and technical problem-solving. At the elite level, the route isn't seen until moments before starting, meaning climbers have to think on their feet and plan as they go. On the other hand, the goal of Speed Climbing is to climb this same wall as fast as possible. Here the route is always the same, testing speed, power and accuracy.
Bouldering is a little bit different. The wall is much shorter (4m) and climbers are given a time limit to solve a number of "problems" with the fewest moves possible. Bouldering tests flexibility, coordination, strength and technical problem-solving. Therefore, to be successful in the combined event, athletes must train to meet the demands of each climbing style and need to demonstrate competence across each of the three disciplines.
The Mental Challenges of Climbing
It is important to acknowledge that with the different physical requirements of each discipline come a set of unique mental barriers as well. For Lead Climbing and Bouldering, there is a huge element of "in the moment" problem-solving required. This means the climbers need to be able to engage in decision making under fatigue, overcome thoughts of self-doubt, and engage in appropriate risk-taking.
It's arguable that focus is the most important mental component required for Speed Climbing. The top climbers in the world are reaching 15m in just over 5 seconds – that's 3m per second! To be able to climb at this incredible speed athletes need to be completely focused, as one wrong move could completely disrupt their entire performance. The margin for error in speed climbing is so small, meaning attention to detail and accuracy of hand and foot placement are absolutely crucial.
Trust Your Body
One mental barrier common to all three disciplines is the need for climbers to trust their bodies. They need to trust that come competition day, their body will be able to meet the complex physical demands of the performance as a result of their training and preparation. When climbers lack trust they often hesitate and are unable to perform those more difficult, dynamic movements that require a higher level of risk. However, trust is a tricky thing to develop and maintain, especially when it's been broken in the past.
If you watch any elite climber train or compete it is clear they place a huge amount of trust in their body to take them where they want to go. With trust being such a huge mental component of climbing it's important to talk about why we find this so challenging. From a psychological point of view, a lot of this boils down to fear. Whether this is fear of falling, fear of taking a risk and it not paying off, or the fear of failure.
Fear And Trust
Fear of falling is often one of the first mental hurdles climbers overcome in their career, particularly in bouldering where there is no harness. With this fear of falling comes the need to trust our body to hold itself up, but this isn't something that is developed overnight. Trust in our body is something that comes over time with practice, and it strengthens each time we push ourselves to do something we haven't yet done before. Each time our body shows us it can do something we were unsure it could do, we learn to trust it a little bit more.
But each time we take a risk and our body is unable to physically cope, our trust is inevitably shaken and it's normal for us to second guess our abilities. For climbers the journey to trust is a constant battle of pushing themselves beyond what they know they can do, celebrating when their body can cope and picking themselves back up when it doesn't. In no way is the journey to trust smooth sailing – behind every successful climb are many unsuccessful ones. Trust is one of the many human concepts that is hard to build but easy to destroy.
Fighting With Our Mind
Hesitation is another common mental barrier to performance mentioned in the climbing sphere. This also has to do with trust in our body, but through understanding the mental processes that underlie hesitation we can learn to overcome it. Hesitation mainly stems from the fear that our body won't be able to successfully perform the movement needed to progress in the climb. As a result of this, we often get into a bit of a fight with our minds. This is because our mind is really good at debating and intellectualising – it's great at coming up with rational and logical reasons for us not to do something that might put us at risk of harm. It generates all the possible outcomes and potential (negative) consequences, and details any and every reason why we shouldn't attempt that next move. Our mind is really just warning us that if we go ahead with the movement we might slip and fall, but our default response to this is often to try and convince it otherwise.
It is important for climbers to understand that their mind is not going to change its mind. Because its job is to warn us of the dangers of any behaviours we might engage in, arguing why you still want to engage in the behaviour isn't going to change your way of thinking. Trying to convince your mind why it is a good idea to take this risk to progress in the climb isn't going to necessarily stop it from telling you it might not be a great idea. Here, we need to remember that we don't want to view the mind as the thing that tells us what to do. Rather, we want to try and view it as something that warns us, protects us, but still gives us a choice as to whether or not we proceed with those actions. But how can we learn to go against what our mind is telling us?
Mental Processes Underlying Hesitation
One of the most important mental tools a climber can develop is a heightened awareness of their inner private experiences. Private experiences include thoughts, feelings, bodily sensations, memories, and anything an individual experiences privately that has the potential to influence their behaviour. Because there is an extremely important technical aspect to climbing, particularly Lead Climbing and Bouldering, climbers need to be guided by their problem-solving minds. When the mind is in a problem-solving mode and we're relying on it to make complex technical decisions, this leaves us vulnerable to overthinking and fosters the perfect mental environment for hesitation.
Because the brain by nature is a problem-solving machine, it will calculate as many routes as possible, the consequences of each of these, and will leave it up to us to weigh up the risks associated and make the best decision we can at the moment. This can be extremely challenging, especially once physical fatigue sets in, and the fear of making an error can often hold us back from progressing. Once we notice we're starting to hesitate, it's also easy for us to begin to worry about the fact that we're hesitating, often perpetuating this behaviour.
Hesitation Mindfulness
By bringing awareness to our mind and what it is telling us in those moments, our body and how we are feeling in those moments, and any of the memories from the past that come up in those moments, we can minimise their impact on our behaviour and commit to the actions we want to take. There is a part of us that thinks, feels and remembers, but there is also a part of us that can take a step back and observe these thoughts, feelings and memories from a distance. By taking a step back in our minds (metaphorically speaking) we can bring awareness to these private experiences that often lead to hesitation and observe them from a more distant viewpoint. This distance provides us with the room to make a decision about our actions that are not influenced by these thoughts, feelings or memories. It is when we get caught up in these experiences that they have the biggest impact on our actions.
This is called mindfulness, and it's where we bring awareness to our most inner experiences, separate ourselves from them and take actions in accordance with what matters to us.
Visualising The Climb
Visualisation is a mental strategy that can be used to enhance performance across virtually any performance domain. In competitive climbing, the way visualisation might be used would vary slightly across the different disciplines, but most of the benefit of this mental strategy lies in the practice effects it can produce. Technical consistency can be improved through pure and other forms of mental rehearsal, meaning we don't necessarily need a wall or any equipment to improve our technical abilities.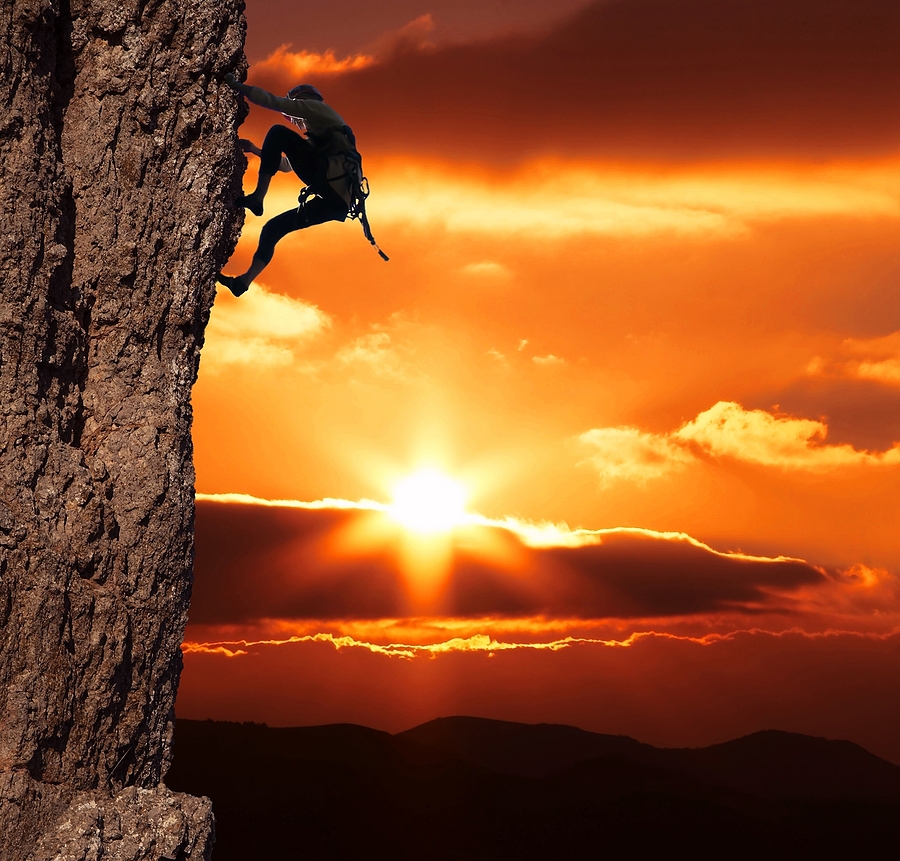 Mental Rehearsal: Lead Climbing and Bouldering
For Lead Climbing and Bouldering, because the route isn't known and cannot be practiced beforehand the best use of visualisation here would be to prepare for the most unideal scenarios. For visualisation to work, it needs to be as specific as possible, and must be a complete sensory experience meaning we need to go beyond just what we can see. Visualise yourself stuck, struggling to progress on the wall, and think about what you are likely to be seeing, feeling, smelling, tasting and hearing at this time.
Visualise how you would overcome this physical barrier, and what that would look like, feel like and sound like, but also visualise not overcoming this hurdle, and think about what you would want this to look like? What would you want your body language, facial expressions, and your interactions with others on the ground to look like? It's one thing to plan for when things go our way, but how often do they? Visualisation is such a great tool because it allows us to familiarise ourselves with the worst-case scenarios and plan our response to them. And we can do this all from the comfort of the ground.
Mental Rehearsal: Speed Climbing
Alternatively Speed Climbers might want to use visualisation in accordance with unique demands of the discipline. Rather than placing complex and dynamic decision making at the centre of the exercise, here we would want that focus to be around speed and accuracy. Speed climbers might want to mentally rehearse their climb from different viewpoints, and vary between the first-person or third-person perspective. They might also want to vary the pace of their climb, visualising their climb in slow motion with more emphasis on technique. Or at real speed with a focus on arm and foot movement/placement.
Climbers may also want to engage in a variation of mental rehearsal known as Pure Shadow Practice, where they move their arms and legs while they mentally rehearse to mimic the movements they want to perform on the wall. Having our body go through the motions can provide additional benefit relative to Pure Mental Rehearsal alone. Finally, climbers might want to engage in another variation of mental rehearsal known as Video-Assisted Mental Rehearsal. Here, they might watch video footage of themselves or another climber on the course and analyse their movements, before using this knowledge to inform their Pure Mental Rehearsal and Shadow Practice. But again, it is important for speed climbers to integrate planning for the best and worst in their visualisation practice. How are you likely to feel if your foot slips on the wall? What are you likely to see as you make your way back down to the ground? And how do you want to behave?
The Aim of Visualisation
In addition to having actual practice effects, the goal of visualisation is to increase our familiarity with as many different scenarios of the same event as possible. Athletes often feel scared to think about what could possibly go wrong during their performance, and sometimes think that planning for the worst is setting themselves up for a bad performance. For climbers who feel this way it is important to acknowledge that although we might complete all of our processes correctly, this only increases the chance we'll get the outcome we want. Our desired outcome is never guaranteed despite our best efforts, so it is important to prepare for when we don't get the results we want as this helps us to bounce back and try again.
Reaching New heights
Climbers are constantly being asked to push themselves outside of their comfort zone, and must continue to push their own perceived physical limitations in order to see any progress. Through mindfulness and visualisation strategies, climbers can work towards a building a trusting relationship with their body to help them overcome fear, and helpful a relationship with their mind whereby thoughts and feelings no longer dictate their actions.
Condor Performance is one of the global leaders in applied sport and performannce psychology and we'd love to lend you a hand if you're looking to lift your performance to the next level through a greater focus on the psychological. What is the best way to get in touch? We'd suggest completing one of our four intake questionnaires here as an inital step. Once done one of us will be in touch typically within two or three days.