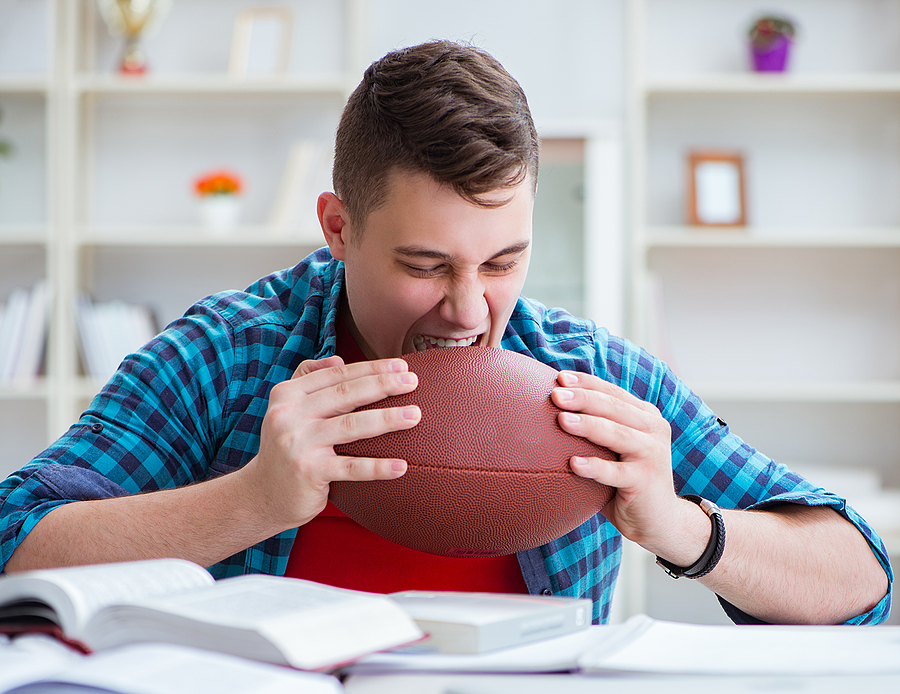 Has there ever been a better time to consider your work-life balance? The Corona Virus, although devastating, is a reset and rethink opportunity for many of us. Are you spending too much time on one area of your life to the detriment of another?
The parents of our younger athletes will often ask us how they might encourage their kids to take their schoolwork seriously. Understandably, young athletes can struggle to see what relevance of studying or exploring long-term work options has to achieve their sporting dreams.
It is here that the answers hides. What if you could prove to elite athletes and performers that sometime less is more. What if they knew that hitting the maths books was actually going to help them play better on Saturday morning?
Multiple Pursuits; A Key to Good Mental Health
Let's start with a fact. Playing careers are short at most levels for most athletes in most sports. There is a growing body of research that demonstrates the need for athletes be participating in a 'dual career'. Or at least for them to be taking steps to prepare for their post-athletic life. Most competitive athletes retire at a young age. Think of gymnasts who are 'over the hill' in the twenties. This not only impacts on their lifestyle and their finances but also 'bigger picture' areas such as their sense of self, their social identity, and their sense of direction in life.
In US college sport, for instance, approximately 1% of collegiate athletes become professional athletes. And the average professional sporting career only lasts around 3.5 years (1). One area where the US college system 'has it right' is that athletes are required to maintain grades whilst studying in order to play. Traditionally this has not been the case elsewhere in the world, where club-based sporting systems are prevalent or professional development pathways are separated from the education sector.
Heading In The Right Direction
This has changed in recent times however, with athlete education and career guidelines now being set by national governing bodies across the globe.
In Australia and New Zealand many of the major sporting codes now require professional athletes to undertake vocational training as part of their contracts. Essentially a focus on health work-life balance is becoming compulsory like gym sessions. After all, many of these sports have very high injury rates. And some of these injuries, that can happen in seconds, can end sporting careers once and for all.
In the past, professional clubs have 'paid lip service' towards career, personal and welfare development. This was due to a belief that their athletes should be focusing solely on improving on-field rather than off-field. To be fair, this hasn't been helped by a tendency for many athletes to prioritise their sporting activities above all other pursuits. Not surprisingly, athletes choosing to maintain a non-sporting activity achieve better jobs and are happiest with their life beyond sport than those who focus exclusively on sport (2).
T.O.T.I.W.B.E.A.
Some research has suggested that engagement in dual career activities may actually lead to a performance benefit for athletes. That's right, work-life balance is good for now and later! This may in part be due a sense of balance in life and a sense of security from preparing for the future (3). Interestingly, a recent study showed only 31.9% of elite Olympic athletes decide to follow the 'sport only' career path (2). A case study of a club culture within the Australian Football League suggested that club culture supporting whole person development was associated with on-field performance rather than being irrelevant or even competing against performance (3).
In the work that we do in this areas we often use a made-up term called T.O.T.I.W.B.E.A.
T.O.T.I.W.B.E.A. stands for 'The Other Thing I Want to Be Excellent At.' This essentially involves something outside of your chosen sport that provides you with:
A sense of reward
A purpose in life
Something to challenge and stimulate you
Something to develop skills and competencies for self-improvement
Activities to take your mind off training, practicing, playing or competing
In other words, T.O.T.I.W.B.E.A. helps to provide that elusive 'sport/life balance.' We prefer this made-up label as it doesn't imply it has to be obviously job related. For many of my sporting clients T.O.T.I.W.B.E.A. has been a hobby. Or just trying to become a better father, brother or friend.
The Clincher
As the growing body of research shows, when T.O.T.I.W.B.E.A. is defined by an athlete as an academic goal (such as completing a course of study) or as a vocational goal (such as working towards a long-term profession) there are significant rewards to be gained during their playing days and in the years that follow. What this research also shows, however, is that there are a range of barriers to successfully balancing sporting and non-sporting career progression. Chief of these is the issue of ineffective time management (2), along with a lack of understanding or support for dual career development at the family, club or organisational level (4).
With the above in mind it should come as no surprise that time management is organically woven into all the consulting that we do at Condor Performance. By this I mean it would be difficult to imagine us working 1-on-1 with an athlete over an extended period of time without us examining their schedule in detail. Often serious psychological challenges can be overcome by simply looking at what you do and don't do on a weekly basis. Or by considering the quality of your time as a seperate concept to the quantity.
Would you like some help with your work-life balance? If you would like some professional assistance on anything raised in this article please reach out to us via one of the following ways:
Send a regular old email to info@condorperformance.com and make sure to include lots of background infomation. For example, your age, your sport, your location, your goals and your challenges.
References