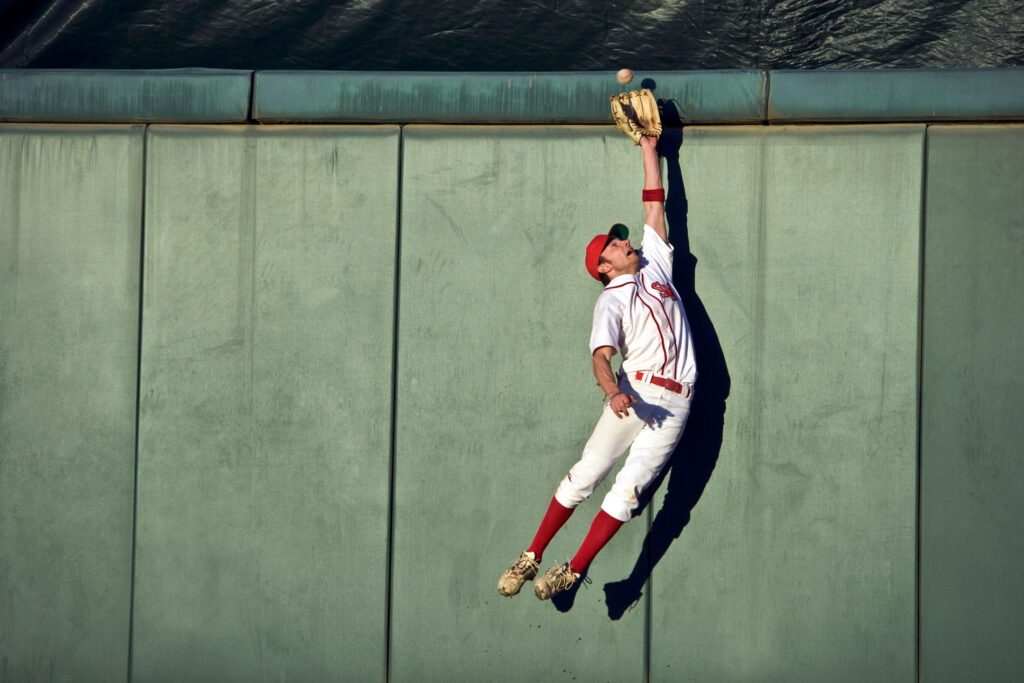 Introduction
When I applied for a position at Condor Performance a little over 10 years ago one of the first questions that Gareth asked me was which sports I considered to be the most mentally challenging. It's a difficult question because every sport has its challenges which Madalyn and Morgan have outlined in their excellent recent blog articles. However, after some consideration and debate with my family the two that that I landed on were Baseball and Biathlon. The focus of this blog is going to be on the mental side of baseball (or Baseball Psychology) by exploring what these challenges are and different approaches we can take to best manage them and allow our performances to thrive.
Why Is Baseball So Psychologically Challenging?
Now I will say that the answer of baseball as one of the most mentally challenging sports might have a touch of bias to it as I spent most of the afternoons and weekends during my youth toiling away trying to be the best first basemen and clean up hitter that I could be. I love the sport and everything about it including its unique challenges that for me add to the excitement and spectacle that is America's pastime. Since working for Condor Performance (Gareth must have liked the answer to the previous question amongst others during the intake process haha) I have had the chance to work with a number of baseball players at all levels of the sport and this has given me the opportunity to see how individuals react to the challenges that are thrown their way (literally and metaphorically) and also determine what works and does not work in terms of strengthening performance.
Analysing baseball performance and determining player strength is something that for a long time has come under the microscope of sabermetrics. If you are not familiar with this term it was coined by Bill James to evaluate in-game performances of players and something that was brought to Hollywood via the movie "Moneyball". Through these practices baseball has become obsessed with statistics and this has filtered down into the mindset of a lot of players I have worked with who are more focused on box score performance rather than the actions and intentions that make up their time on the field. What this means is that a significant part of any improvement to a baseball player's mindset is about shifting their attention away from being statistically motivated to being process orientated. Statistics muddy the waters and focussing on them essentially means we are trying to control too much of what happens in the game which leads to overthinking, self-doubts, knee jerk changes to our approach and a greater level of emotional variability. All of these factors are the kryptonite to process consistency which wants to be the goal that we are all striving for. Of cause this is true for many sports but baseball is particularly susceptible to an obsession with outcomes (both large and small).
It's How You Handle The Stats!
Now I know a lot of people might be reading this and thinking that statistics are important especially if you're a player trying to earn more playing time or generate college offers. To an extent this is true. They are important but they don't want to be the focus or the way we judge our own performances. They assume too much and don't represent the cog in the machine that we have control over. To me statistics are the taste of your favourite meal whereas processes and tactical wisdom is the recipe that allows you to produce that taste. I am much more interested in knowing whether we executed the recipe correctly because this will go a long way to determining the taste of the meal. In baseball terms I'm more interested in knowing that you took an aggressive mindset at the plate and followed your pre-pitch routine which resulted in hard hit line drives that might have been caught in the outfield than being distracted by what happened in your last at bat, worrying about getting on base safely and therefore you're not locked in but managing to bloop a couple of safe hits. The former of these scenarios represents process and performance consistency and that drives confidence even if the statistics don't align.
If we take a statistics only (mostly) frame of mind I believe we get distracted from the essence of baseball (and any other sport to be honest) which is the competitiveness between two opponents. Whether you are the pitcher, batter, fielder or base runner you are engaged in a contest and in order to put our best foot forward in the contest we want to be focused on the present moment, be routine based and active with our processes. Strengthening these three mental skills will help take any baseball player's performance to the next level.
Acceptance and Commitment Therapy and Baseball Psychology
Being focused in the present moment aligns itself with the approach of mindfulness and Acceptance and Commitment Therapy. If you look at being consistent in terms of thoughts and emotions we need to observe how a focus on different points in time affect us. Focusing on the past can generate an internal experience of frustration, disappointment and regret whereas focusing on the future can generate an experience of stress, anxiety and excitement. When you put these ingredients into the performance pot what I have found is that it either distracts or causes an individual to rush, not the mindset we want to have. Baseball (like volleyball, golf, cricket, American football and tennis) is a stop-start sport which means that there is a clear distinction of what the present moment is, i.e. this pitch.
This pitch is the only one I can actually do something about from any position on the field. As a pitcher its the only one I have control over throwing, as a hitter its the only one I can look to hit and as a fielder it is the only one I can make a play on. All the pitches that were previously thrown are done and cannot be changed even if we made a mistake or missed an opportunity to have an impact. All future pitches are irrelevant because we have no idea what is going to happen. It's this pitch (and only this pitch) that I can contribute on and therefore we want to be locked in on ensuring it gets our full attention.
Repeatable Routines Are Key
The way that we can increase that present moment focus is by being routine based. When the play pauses while the ball is thrown back to the pitcher and they reset before going again is a really good opportunity to make sure we lock back in for the next play. I remember a junior coach that I had who would always say that each pitch when you're in the field you need to expect the ball to be hit to you so you're ready to make a play. Having a routine can help with this by making sure that we know the game situation, are walking in with the pitch to ensure we are on our toes and are ready to be active if the ball is hit our way.
The same applies at the plate or on the mound where we can go through a routine (think David Ortiz at the plate or Craig Kimbrel on the mound as exaggerated but effective examples of having a routine before every pitch). Irrespective of what has happened the routine is exactly the same and ensures that when they are set and ready to go. The only thing we are focusing on is this moment and the opportunity to contribute. If you are designing your own routine then the thing that is important to keep in mind is that it is very action based because no matter the situation we want to be confident that our routine can hold strong. If it is too mental (e.g. reminder words etc) there's a chance we lose it to distraction whereas no matter what circumstance we can execute a series of small behaviours to ready ourselves for what's to come next.
Once we have readied ourselves and have that focused locked in we give ourselves an opportunity to land a punch in this contest. Baseball is made up of split second decisions so being primed for the moment is essential to playing on the front foot proactively rather than being reactive and chasing the moment. I mentioned earlier that each pitch is a chance to contribute and this is absolutely true. I see too often players will have altered intentions based on what's occurred previously and the most common of these is a tendency to play it conservative when things have not gone their way, e.g. let a ball drop in the field instead of laying out for it, not throwing an off-speed pitch when there's a runner on third or waiting for the pitch rather than looking to attack it at the plate. In each of these situations we have drastically reduced our chances of showcasing our strengths and skillset and if you are too statistically minded we have also reduced the chances of being successful in that way as well.
Staying True To Our Processes
Staying true to our processes is designed to help us be aggressive and look to command the moment whereas getting caught focusing on something out of the present moment means we lose that command. We begin to play like we have something to lose instead of playing like we have something to win. We play to avoid mistakes instead of creating success. We catch ourselves worrying more about the opinions of others than the pride we have in ourselves.
The strength of our processes ultimately comes down to how we practice. If we are reinforcing our processes and routines in that space then they are likely to show up in a game. Think about throwing a bullpen or taking batting practice and often it's about volume and repetitions. What you might like to think about is slowing it down and making sure there is a space for your routine which I think can also increase the quality of the work you are putting in. The application of processes in practice also means that we can create a sense of confidence and test ourselves in that forum so that we have trust that in pressure moments the same version of ourselves is going to show up to compete. In other words the pattern of how we practice is the pattern of how we will compete.
A Final Thought …
The final thought I have is that the pace of baseball ultimately means there is a lot of thinking time. The ideas presented in this blog will help ensure that the thinking time actually turns into a bit more doing time and allows you to stay consistent over the course of nine innings and see the best version of yourself showing up to compete.