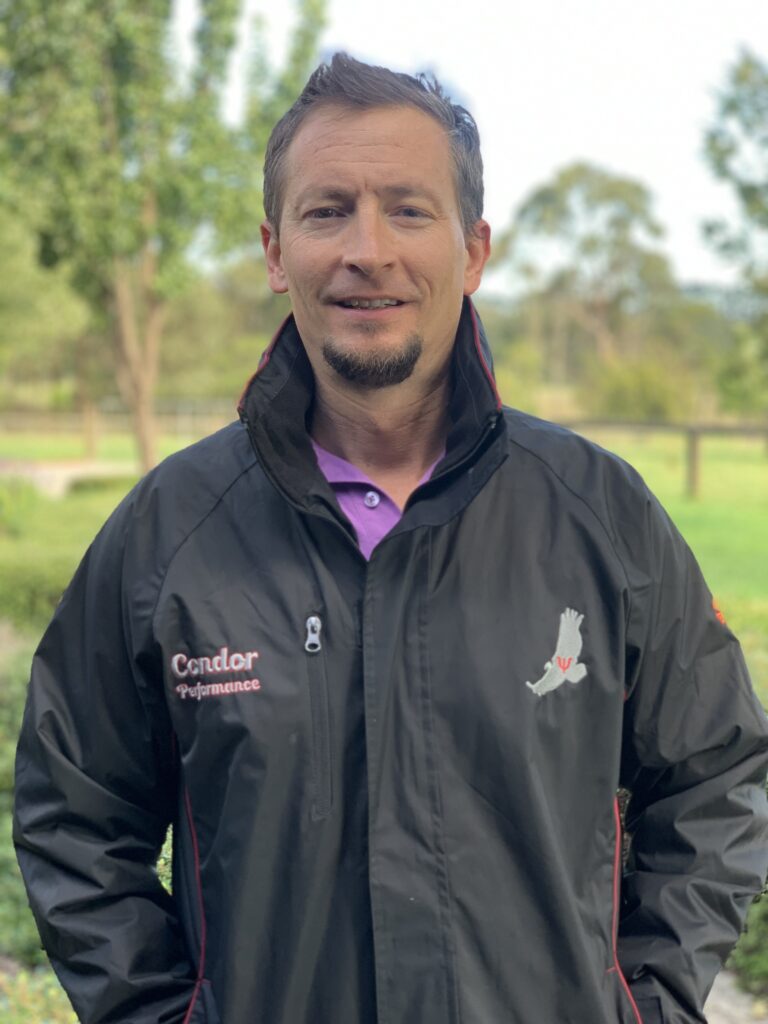 The Reflective Work Journal of a Qualified Sport Psychologist
Towards the start of 2020, I started to keep two journals. The first one was (is) a paper and pen version for my personal life. I try to write in it daily as part of a morning mindfulness routine. The other journal is for my work as a sport psychologist. For this one, I just type a few pondering into a Pages document at the end of each working day. As my entries do not contain any clues about who my sporting clients are I decided to start 'sharing the love'. By this I mean instead of all these musings being hidden away I decided to start "copying and pasting" some of the entries into this page for public consumption and debate. So feel free to use the comments section at the bottom to express your opinions about anything that I write about. Note that the entries are in reverse date order so you'll need to scroll down for the older entries. Enjoy, engage and share.
If you are wondering what happened to entries after 23rd June 2021 the simple answer is that David went on Paternity Leave and I have taken over most of his admin. Basically, there are a few processes – such as adding to this Reflective Work Journal of a Qualified Sport Psychologist – that will have to wait until Dave is back around mid-September. See you then! Cheers, Gareth
Wednesday 23rd June 2021
We are breaking records left, right and centre at the moment. This week, we reached a huge one. The combined billable hours of all our active monthly clients passed 200 for the very first time. And how did we do this? We created some processes, we then stuck to them and trusted them. We ignored small variations in results on only reacted to them after we had enough data. Do you do this? Or do you ditch your plans every time there is a slight form slump?
Monday 21st June 2021
I spent the morning with David. Since about 2015 he has looked after most of our admin. Admin at Condor Performance is not very typical. It's more like the work done by Jonah Hill's character in the classic sports movie Moneyball. The role is all about the numbers behind everything else we do. David is very, very good with numbers. Due to the incredible growth of our business in the last few years and the fact that I have stopped practising this type of work it was somewhat overwhelming to see what I will need to do for the next 10 weeks (whilst Dave is away on paid paternity leave).
So how did we go about it? Simple, there is a patronisingly simple daily To-Do list. The list, called the Jonah Hill list, breaks down all the tasks into what is required based on the day of the week. Although this is not my first time doing this, it felt like it. It made me reflect on how a patronisingly simple To-Do list can be a great way to go started on a new, daunting project.
Monday 14th June 2021
This week James Kneller got his endorsement through from AHPRA and can therefore start to refer to himself as a sport psychologist. The below 10-minute video explains everything in a lot more detail.
Monday 7th June 2021
The last 10 days have passed in double time. Of course, this is completely inaccurate. Time always passes at exactly the same rate but it's amazing how our perceptions of this sand clock change. Although my new office pod is sitting down at the bottom of my garden there is still a fair amount of work to be done before I can start working from there. Liaising with electricians and plumbers whilst keeping one eye on the weather combined with a normal working week meant that when I blinked it was already Friday evening.
This makes me reflect on whether it's good or bad for time to feel like it's passing quickly or slowly. What do you think? My initial instincts regarding this question are that like so many continuums. Both extremes are what we are trying to avoid. In other words, if time feels like it is passing so fast that you never have an opportunity to stop and smell the roses this is obviously not ideal. However the opposite might not be fantastic either. Although this is not something that I ever experienced I suspect it's possible for each day to last a lifetime. So how do you hit the sweet spot in between these two extremes? It probably boils down to a healthy mixture of spending your waking time on both trying to achieve and intentionally trying not to achieve.
I'm using the arrival of the pod as an opportunity to really re-evaluate my work-life balance. I have a new working schedule where I will work 37 hours a week. 37 hours of high intensity, highly purposeful working time every week without much variation. This in turn will allow me the better part of 60 to 70 weekly hours on highly unintentional and unproductive time with my family and pottering around my garden.
Friday 4th June 2021
The below articles all contain quotes from at least one sport psychologist and the whole article is free (i.e. there is no pay wall). At this stage, we have not had time to verify whether the quoted sport psychologists are in fact qualified or not.
~ Osaka decision a reminder that all sports – football included – still don't prioritise mental wellbeing by Cady Siregar
~ Emmet Brennan wins box-off to claim Olympic place
~ Marriage key to Rory McIlroy's last win, says sports psychologist
Thursday 27th May 2021
Today was a massive day for me both personally and professionally as my future working space turned up on the back of a truck. Despite me being more apprehensive than I can remember since the birth of my children I decided to stick around just in case. And just as well I did. Gordon the truck driver turned up an hour early and immediately declared he would not be able to enter the property through the relatively narrow gates. Although I had measured the gates beforehand I had forgotten to factor in the turning circle. After some small talk with Gordon, Richard the local builder and his crew turned up to take over. From a pure performance psychology point of view, this was fascinating to watch. Their experience was palpable and although the truck only managed to squeeze through the gates with about a centimetre to spare the boys were cool calm and collected. From that point forward I went to hide inside and let them do their thing. In the space of a few hours, the office pod was lifted off the back of the truck and craned down to the footings near my shed. The end result, pictured below, is truly impressive.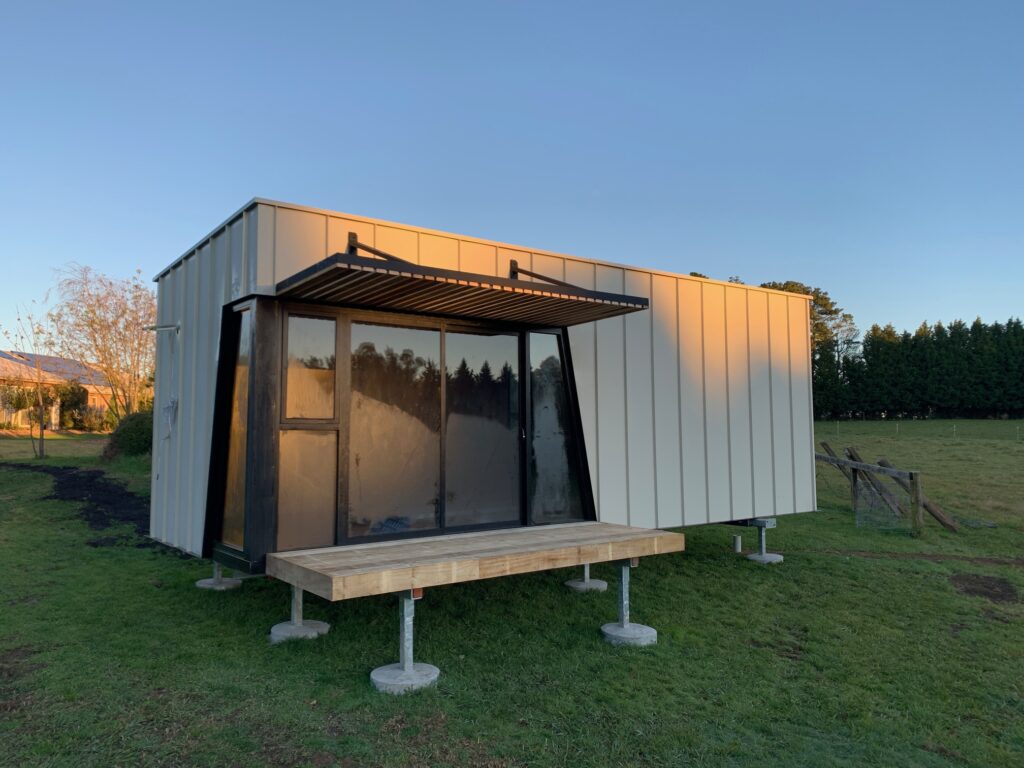 It made me reflect on processes and outcomes again. The outcome in this case is spectacular and amazing. But would anybody who saw the finished product be able to get an idea of the arduous processes that went into making it happen? And it's the same in sport and performance, isn't it? Does anybody ever really understand the blood, sweat and tears that go into achievements? And yet it's these daily processes that essentially separate the best from the rest.
Tuesday 25th May 2021
Back home now but with lots to reflect on. Late last week, when I knew I would have to go to the Gold Coast to inspect the office pod I decided to contact a local architect. The reason for this was twofold. First of all, I have no I have detail when it comes to anything construction related. So me inspecting the pot alone probably wouldn't justify the cost of the trip bite self. But I also know myself and when I am particularly emotional – which will be inevitable whilst inspecting my future office over the next 10 to 15 years I'm at my list observational.
Luckily for me, local Gold Coast architect Matthew Dean was the ideal choice. There is something to be said about knowing your strengths and weaknesses intimately and not always trying to improve all of your weaknesses. Sometimes, for an hourly rate of $200, it's easier to outsource the things you can't do or I'm no good at. Matthew's expertise and experience transformed the one-hour inspection from a token gesture to a thorough audit. This made me reflect on how often in professional and amateur sport the mental side is being done by well-intended amateurs. And yet for an hourly rate not too dissimilar to Matthew's a sport psychologist such as myself could be brought in to entirely change the dynamic of the training session.
Monday 24th May 2021
I write this from the Gold Coast having just done a 20 min ocean swim with some pelicans. No seriously. I flew up the GC last night to take a look at my office pod before it gets trucked down to Exeter this week. With a much higher client load, I would struggle this week to give them 100% attention. But, with only half a dozen sessions I can mentally separate The Pod from The People.
It feels as if the arrival of the Pod will mark a significant before and after for Condor Performance. The before the Pod time has really been about getting the business to be stable without it being spectacular. My gut tells me after the Pod we might just go after spectacular. Watch this space.
Thursday 20th May 2021
Latest (free, no paywall) press article featuring a sport psychologist. This time sport psychologist Martina Cubric about the work she is doing in eSports via this recent article. Of course, we have our very own eSports specialist in Dr Michelle Pain.
Monday 17th May 2021
I am being tested myself at the moment. My new office pod, which was due to be trucked down from the Gold Coast and installed this Friday, will be delayed again. Maybe one of the most fascinating professional reflections is how well professionals use the skills they're supposed to impart to others on themselves. For example, do dentists all have strict dental hygiene for themselves and their families? To all nutritionists adhere to an impeccable eating regime? Do all sport psychologists practice what they preach from a mental skills point of view?
This sport psychologist certainly tries very hard to practice what he preaches. One of the core underlying principles of Metuf (which will be particularly prominent in the latest version we are developing at the moment) is mental separation. By mental separation I mean the ability for human beings to separate into smaller, more manageable parts a complex situation that is normally anything but separate. My delayed office pod is a very good example. I'm very frustrated by those who are developing the pod as they essentially gave me their word that it would be ready to use by the end of this week. But I try very hard not to let the frustration of this "work area" spill into other areas.
Friday 7th May 2021
Today I spent the whole day with Madalyn and Morgan. I have always been interested in the processes teams use to select their personnel. How can they stack the odds in their favour of selecting the right kind of people? Rightly or wrongly, at Condor Performance this process has always been rather intuitive. Madalyn and Morgan were both given an opportunity to join our team after two simple informal interviews.
So you can imagine my relief and satisfaction when both responded very well to a day of intense training on how to deliver sport psychology/performance psychology services.
We flew MS down from Brisbane so the "training day" has the advantage of being in the same room in a nice meeting room in Oran Park Podium (NSW).
One of the hardest things about this kind of supervision is getting the balance right between covering enough stuff to allow them to start working with their own clients but not so much so as to completely overwhelmed them. Feedback from the two provisional psychologists suggests that on this occasion we got that balance right.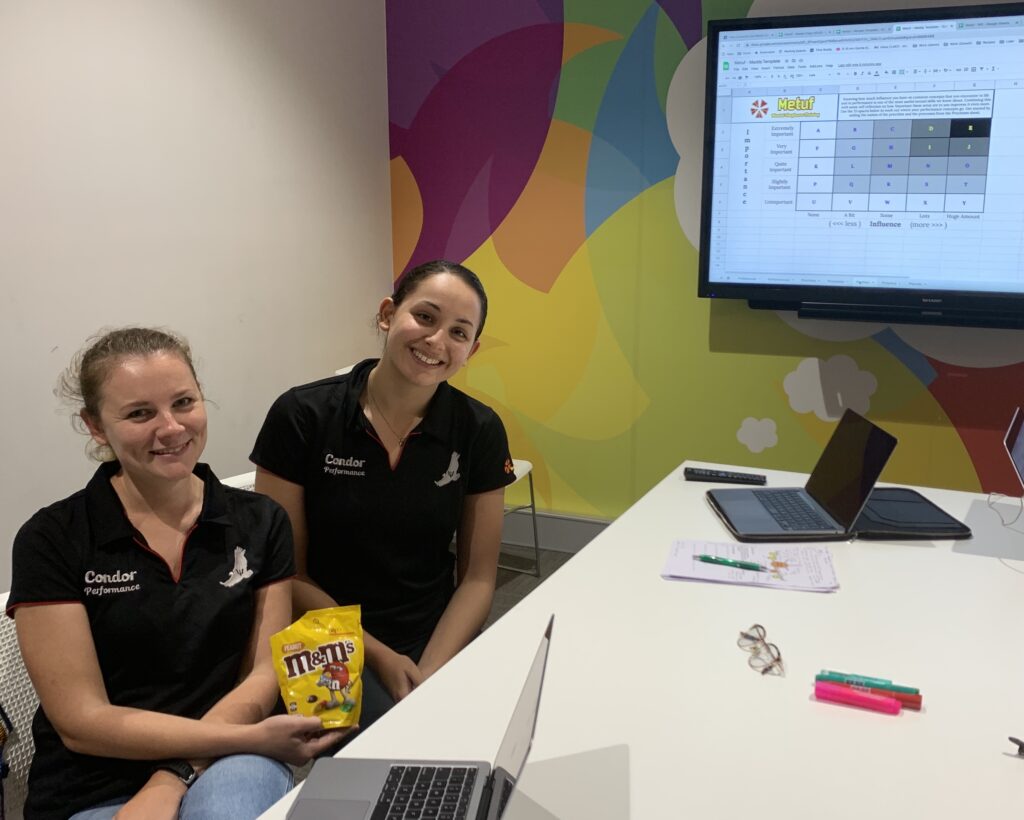 Monday 3rd May 2021
Dave and I caught up in Moss Vale today to review April and plan May. We are starting to get close enough now to Dave's paternity leave in July. What this means is we are starting to have to ask the difficult but necessary question of how do we continue to operate effectively without one of our major "go to" operatives for 4 to 6 weeks. In many ways, this couldn't come at a better time as it is forcing Condor Performance to grow into a much more resilient business.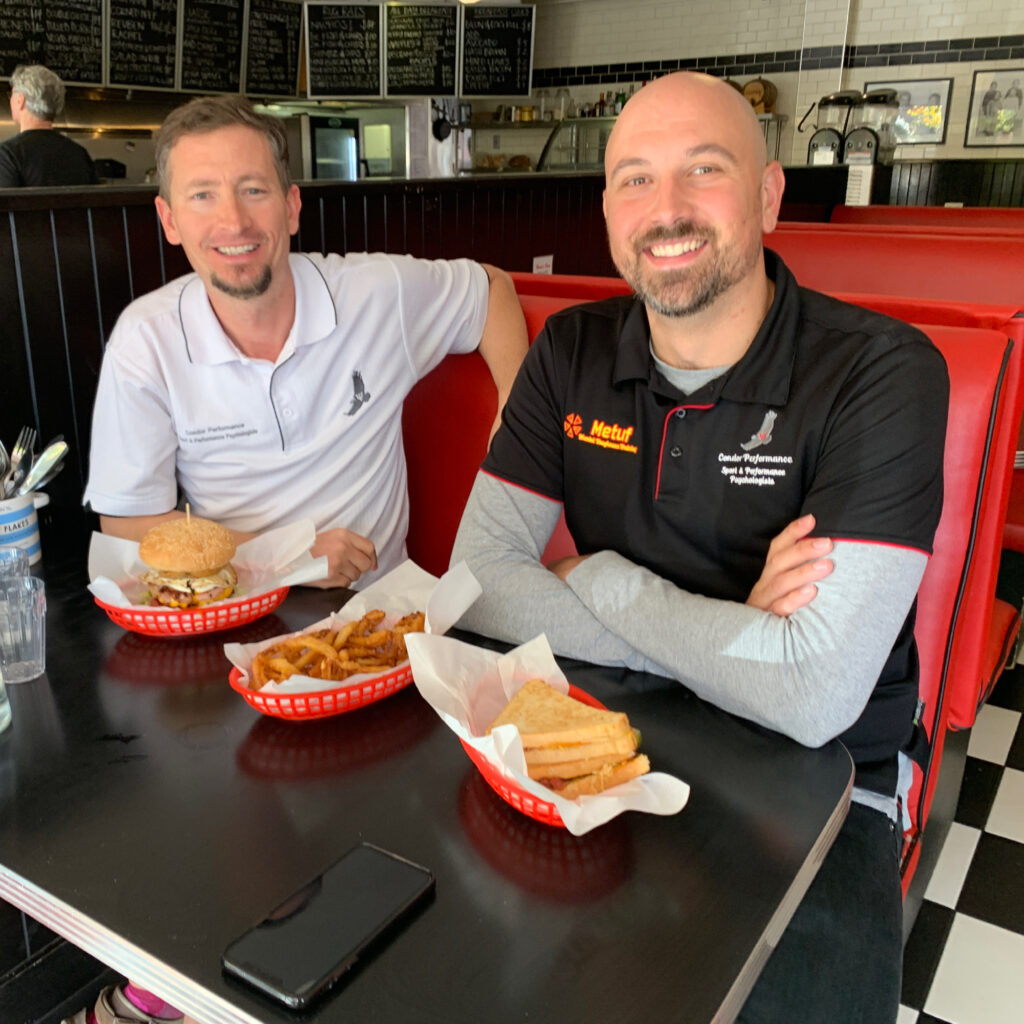 It's no different from the kinds of conversations that would probably want to be taking place in team sports (but probably don't). Imagine a basketball team with a Michael Jordan figure on the roster. Or imagine a soccer team with a Megan Rapinoe on it. David is like this to the Condor Performance team. If I were the sport psychologist of one of these teams I'd be encouraging the staff to come up with processes on how to minimise the negative impact in the event that one of these legends became available. Although I am not the team sport psychologist at Condor Performance, I can use some of the same ideas as the General Manager. And I can tell you right here, right now we are planning Dave's time away thoroughly and well ahead of time.
Monday 26th April 2021
I can't remember the last time I worked an entire weekend. It was probably over a decade ago as that was what was required to get Condor Performance established. But on the weekend I had to work on both Saturday and Sunday afternoons. On Saturday afternoon I ran a three-hour workshop for Table Tennis New South Wales. I haven't run this kind of seminar for quite some time and it was remarkable how years of practice before that allowed me to run this event as if I did it five times this month already. Practice really does make permanent.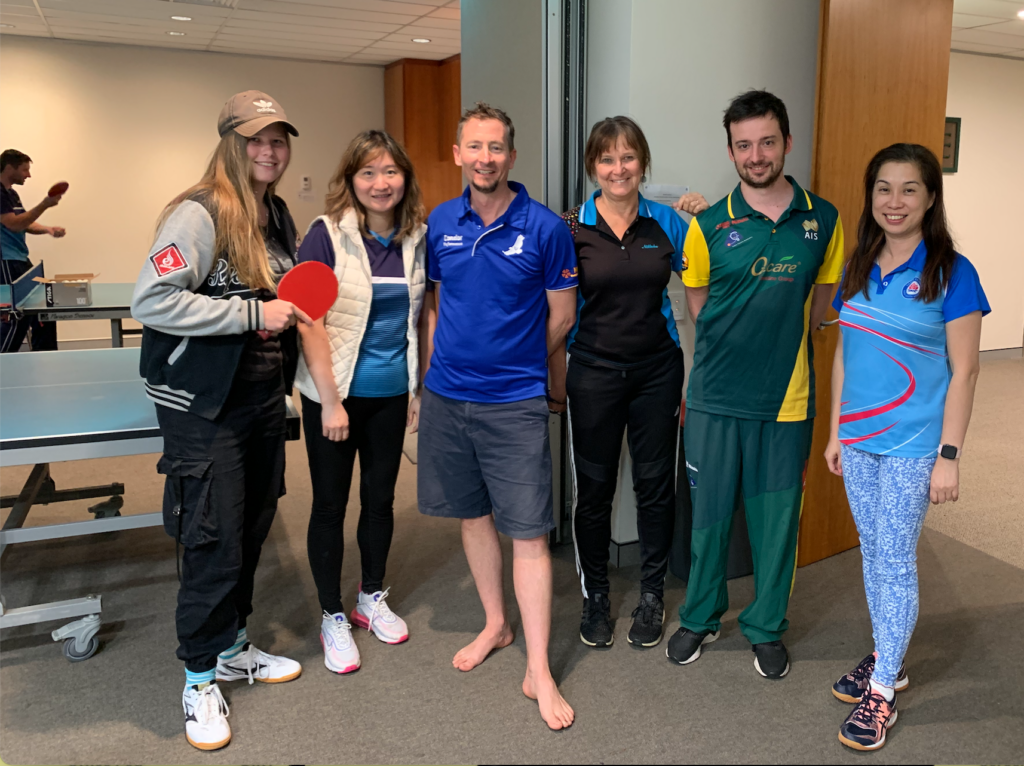 On the Sunday afternoon I got a last-minute request to deliver a session to a very high-profile athlete currently experiencing some difficulties right in the middle of a tournament. Working with this calibre of athlete is simply too beneficial for me individually as a sport psychologist as well as for Condor Performance. So my preference not to work on Sundays was thrown out the window and I stepped up.
Thursday 22nd April 2021
I spent most of this morning with our second provisionally registered psychologist, Morgan Spence. We take the selection of new stuff so seriously that it is taken us just under six months to find, agree to terms and get M&M started. The experience of condensing the better part of 15 years of working as a sport psychologist into one morning of onboarding is quite surreal. But one thing is for sure it really clarifies what we have achieved since 2005. We have come so far and yet in many ways it feels like we are only just beginning. Morgan, like Madalyn, will work with her own sporting/performance clients and help out the Moneyball dept.
Starting about now I will search the international press for any mentions of sport psychologist (singular) or sport psychologists (plural) and then paste the link here. First up New Zealand sport psychologist Jason Yuill Proctor in this article published yesterday.
Monday 19th April 2021
Today Dave and I had our last supervision session and meeting for James Kneller's registrar program. After James submits his paperwork and receives his sport and exercise psychology endorsement we will have a fourth psychologist who can legitimately use the term sport psychologist.
Saturday 17th April 2021
A very exciting day for Condor Performance as the foundations for my new office pod were installed. I will only give a plug to the company creating the eight meter by four meter pod once it's actually physically in my garden but the local builder and his time Richard Whitehead did a epic job of the footing in a single day.
For those of you who have been reading this sport psychologist journal from the beginning you may recall that I used to work from a service office in Moss Vale. I ended my lease they November partly due to having almost no face-to-face meetings or sessions there and partially because I wanted to save on rent for the new office pod. The idea is very simple. Once completed I will have a two minute commute by foot to the bottom of my property. The pod will essentially be a single spacious office with amenities on legs. It's designed to be reasonably future proof. In other words once COVID-19 is completely behind us the fact that I am midway between the cities of Canberra and Sydney will allow me to have face-to-face meetings and sessions in a much more professional environment. At the moment I work from a home office inside of my house, opposite my daughters room and all too often I have to ask them to be quiet whilst I'm delivering sessions as a sport psychologist. This is manageable but not ideal in the long term.
Monday 12th April 2021
I took the whole of last week off. Well, almost. One of my clients sent me a WhatsApp desperately asking for a session so I obliged. But apart from that 45 minutes, it was laptop closed for the whole week. It made me reflect on how important it is to schedule downtime. Although one can try hard in the normal working week to find moments of relaxation there is just no substitute for putting the tools down for an extended period of time.
This is especially true for people with my personality. I believe I've mentioned previously in this reflective journal that it takes me quite a long time to wind up to work and then quite a long time to wind down again. What this means is that I spend half of my weekends winding down from the previous working week and then gearing up for the next one. In other words, the quality of my downtime during the weekend, despite potentially having no commitments, is often compromised. This is in stark contrast to when I take more than three or four days off. Often it's the initial 72 hours that are required for me to actually wind down. And then I really start relaxing.
Wednesday 7th April 2021
During a bit of time off, I accidentally watched a few episodes of The Cube. For anyone who has not seen this TV show, the premise is simple. Normal everyday people are put into "a cube" and required to complete a series of tasks. Each pair of contestants receive a set number of lives and each life is used up when an attempt is unsuccessful. The more tasks they complete without burning through their lives the more money they win.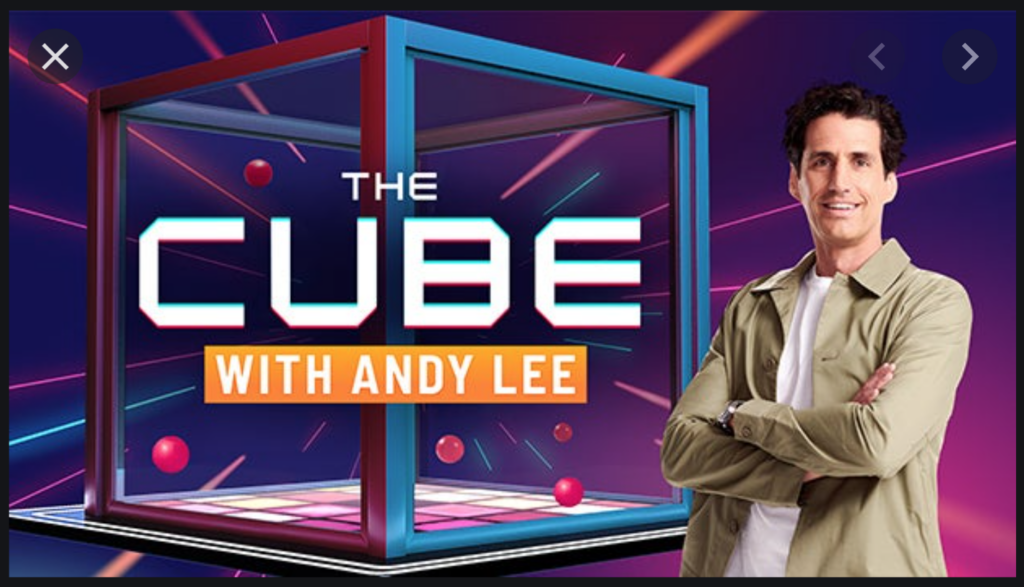 The tasks are all relatively simple in theory. For example, it might be to catch four balls in a row. Or to throw a square into a square tub from behind a wall.
As a sport psychologist, I found it compelling viewing. The most interesting observation is how normal everyday people who have not mentally prepared for these challenges capitulate under the pressure of the cube. You just know that exactly the same tasks if attempted in their backyard with nobody watching and no prize money on the line would be done effortlessly most of the time.
Maybe I should volunteer my services to be the in-house sport psychologist for the contestants of The Cube?
Friday 26th March 2021
Thankfully, I am 90% over my little fever now. Having said that I did spend the entire of this working week below 50% of my best. Yet despite this, I didn't cancel a single session. As I am only one sport psychologist of a whole team of them now I don't have dozens of sessions each week but I still have between 3 or 4 most days. Due to my not feeling fantastic this week I basically cancelled all of my other commitments and prioritised the sessions scheduled with my monthly clients. It really was a real-life lesson in feelings not necessarily having to dictate actions. I felt terrible all week. I felt unmotivated to deliver these sessions. However, I still chose to honour these commitments. Now that the working week has finished I'm delighted with this. The more time I spend working as a sport psychologist the more I believe that this fundamental fact is that the very heart of what we now refer to is mental toughness. Thoughts, feelings, physical sensations and actions are separate entities with the latter being the one we really want to concentrate on due to a superior amount of influence compared to the other three.
Sunday 21st March 2021
Out of nowhere, I have picked up a virus. So I have spent the majority of the weekend in bed feeling very sorry for myself. Luckily, Dave is back from a few days of leave tomorrow so between him and Maddy I am not really required on a day to day basis. Speaking of Maddy, she got her provisional registration through on Friday. What does this mean? This means that when we have prepared her adequately she can start working with her own sport and performance clients. As we are only days away from confirming a second provisional psychologist to join us then it's likely I will try and get them "client-ready together (simultaneously). If all goes according to plan they will both be able to work with their own clients and educate those who enquire about our services by May 2021. This is a good month before we lose Dave to some paternity leave. The fact that there will be two provisional psychologists means that the risk of both "falling over" is very, very low.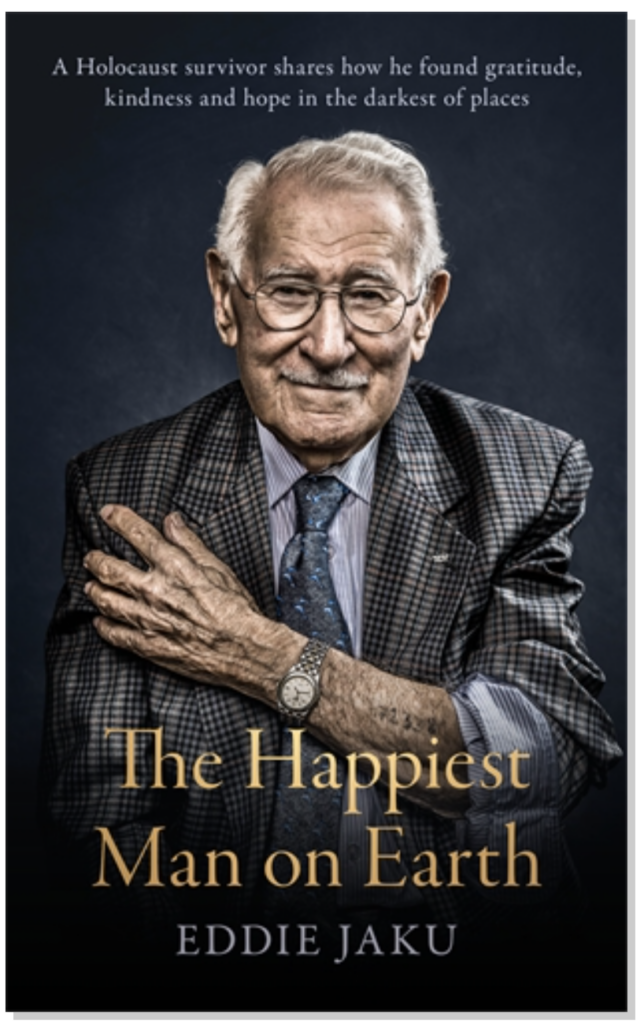 Whilst in my sickbed I manage to smash through a book that my kids gave me for Christmas; The Happiest Man On Earth by Eddie Jaku. The book is not that long so even for slow readers such as myself you can easily get through it in a couple of days. I don't want to ruin it for those of you who have not read it but it's about an Australian survivor of the Holocaust. It really is a remarkable story and it's these kinds of books I feel ought to be part of the formal sport psychologist training processes around the world. They would be if I were in charge!
Tuesday 16th March 2021
Interesting. Condor Performance we don't run a lot of group work. The main reason is that general sport psychology concepts can be very well explained via videos and PDFs. The real "magic" that a sport psychologist does is when the client is undistracted by what others might think about what they reveal. But from time to time we still run the old workshop. And I ran two in three days which reminded me of something.
The first workshop was to a group of a dozen young golfers. It was face to face, or as we now say Same Place. The second was for a similar number but the athletes were cricketers. And this one was via Zoom.
I love technology and what it's done to help improve psychology services. In fact I was probably one of the very first sport psychologists to start delivering sessions via Skype. Skype was invented in 2003 and I did my first Skype session in 2005.
Having said that there is no doubt that the workshop with the golfers where we were all physically in the same room was superior in every way to the webinar from last night. We are blessed to have a team that is geographically spread out across Australia and New Zealand therefore at least those who want to use us for group work are more likely to have the option. My stance is this. If the same place workshop is possible then try and make that happen first and foremost. Use webcam delivery as a backup. For one on one work, go the other way around.
Friday 12th March 2021
I am very interested in different ways of communicating messages and information. This week I decided to grab a special offer from Doodly Software to allow us to start creating short doodle videos. Some, like the one below, will be for awareness. Others though will likely be used when we start producing the new Metuf content.
Tuesday 10th March 2021
For those of you who follow this 'sport psychologist working diary blog' will know I am quite a fan of sports films and documentaries. Invariably the most interesting ones contain a heavy dose of psychological information. And they act as a nice counterbalance to some of the important but less interesting scientific publications that we follow. This week I watched the amazing two-part ESPN 30 for 30 documentaries on Lance Armstrong. Wow, just wow.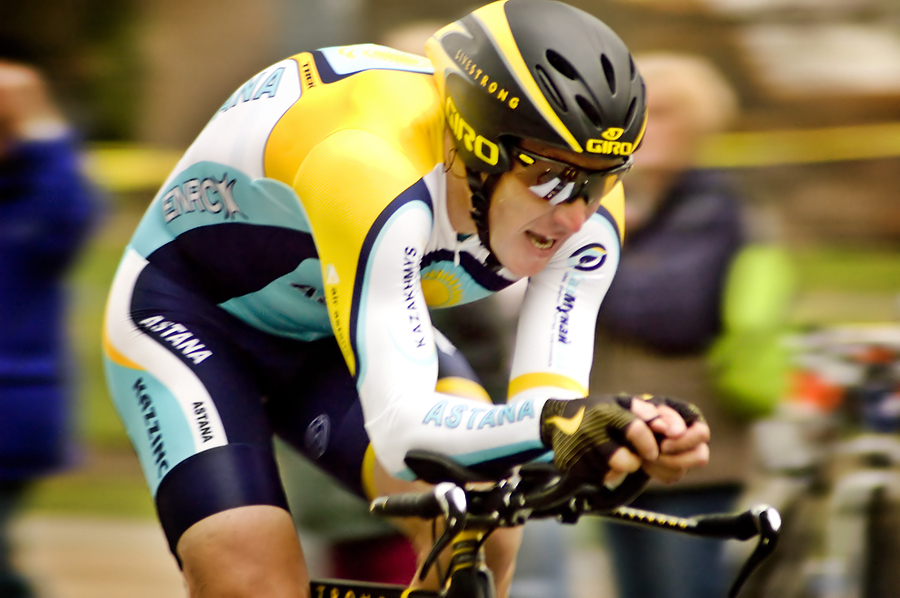 One of the reasons it made for such compelling viewing is due to the fact that the interviews take place seven years after everything exploded. In other words, all the interviewees have now had plenty of time to consider their involvement in the famous doping scandal of professional cycling at the beginning of the century. Lance himself is now a middle-aged man – who will turn 50 this year.
As a sport psychologist what I took most from the three hours of footage was a real appreciation for how different athletes can be in terms of what motivates them. Lance mentioned a few times that he would "get his hate on". By this, I took it to mean that he would intentionally despise some of his opponents in order to make sure that they finished behind him. Traditional sport psychology suggests that we are better off being motivated by positive things. But with all of his doping aside, he clearly was an incredible athlete whose determination to succeed was off the charts. Although his use of performance-enhancing drugs was clearly against the rules the fact that he was motivated by negativity is certainly allowed and I think provides a valuable lesson for sport psychologists who are helping athletes find that extra 1% in endurance events. If it works for them, and it's allowed (ethical, legal etc) let them do it.
Lance may for some time be regarded as "the poster boy" for the win at all costs mindset. But it would be neglangent not to try and learn vicariously from his facincating story (so far).
Friday 5th March 2021
One of my jobs as the General Manager of Condor Performance is to hire and fire staff. Fortunately over the last years I've only had to do the hiring part. In fact I haven't had to let a sport psychologist or performance psychologist go for quite some time. Until this week. When any of the psychologists who provide services on our behalf reach zero monthly clients we automatically review their position. We look at some very objective data and basically make a decision about whether we think it's mutually beneficial to continue the professional relationship. On this occasion we decided that it was probably best to thank this psychologist for his or her time, shake hands and say "all the best".
It's a real testament to what we have achieved at Condor Performance that this is the first time we've had to let a full registered psychologist go since 2015!
Tuesday 2nd March 2021
Yesterday Dave and I spent the whole day with new recruit Madalyn. Spending 6 plus hours explaining the basic of the Condor Performance models is no easy task. It was blatantly obvious during the process is that most of these have to be transferred into a business document with video etc. This is the classic challenge we have at the moment. Trying to find a balance between what is essential at the moment and what will help us in the future. Madalyn is a start. She will spend her first months assisting with admin only. In theory, this will free up Dave to then a) reduce his workload and b) help more with the overall strategy.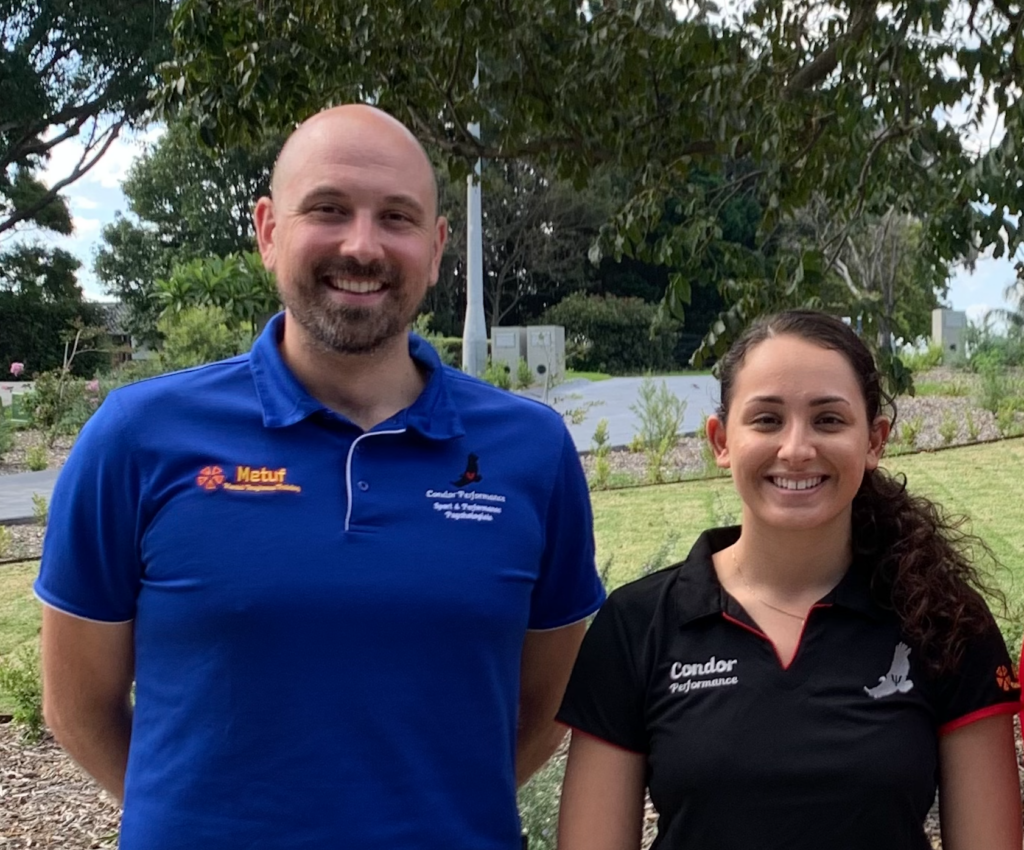 Tuesday 23rd February 2021
A massive week of work draws to an end in Wagga Wagga. I feel I got the balance right between getting some major tasks done and spending some time with my mother (now close to 80 years of age). Roughly 10 years ago I did a business course in Sydney. One of the suggestions made by those running it was to create a manual whereby all the details of running the business I contained. The premise is very simple and very logical. Too many of the daily details of running a business are only in the brains of those who started the business. This is fine if that person is around forever but what happens if they're not. Condor Performance has evolved massively in the last decade and now depends much less on me and never before. However, there are still too many little details which nobody else could do. This week I have re-visited this Master Document, now appallingly out of date, to ensure that if something ever happened to me that Condor Performance, her staff and clients would be as unaffected as possible.
Saturday 20th February 2021
For the first time in a very long time I intervened with one of my clients whilst they were completing. I may write much more on this later on down the track but as a general rule I am not a big believer that a sport psychologist should be too involved before and during competition. The logic is fairly simple. If we are doing our jobs well we will not be required during these times.
The reason why I decided to break this rule was pure coincidence. One of my young golfing clients is playing a tournament in Wagga where I just happen to be at the moment visiting my mother. With the assistance of the golfer's mother, I was able to drive out to the Wagga Wagga Country Club and watch him/her play the last 4 holes of their first (of two rounds). The great thing about this golf course is that there are plenty of trees allowing for ample opportunity to watch relatively closely without being seen. Of course the area I'm most interested in watching whilst one of my golfers is actually playing a competitive round are their routines. (pre-shot). Upon closer inspection, I noticed this client would take a practice swing after each shot that she/he wasn't happy with. The issue with this from a psychological point of view is that it makes the pre-shot routine inconsistent. Furthermore, you are telling your playing partners that you are not satisfied and remember your playing partners in stroke play golf are also your competitors. Fortunately, I managed to get an example of this on video which I showed the golfers after the rounds had finished. I asked if they could eliminate it for the second round. He/she did this and went 5 shots better. Now that's applied sport psychology!
Thursday 18th February 2021
I'm currently in Wagga Wagga spending a few days with my mum. As she is getting on in years it is not unusual when I visit for her to ask me to help her with a few odd jobs. This time round it was to work out a way for her mobile phone to work away from her apartment. I am no expert on smart phones but I certainly know my way around the basic settings. After having played with her settings unsuccessfully it dawned on me that it might just be an issue with her service provider. I asked her how long she's been with Vodafone and she said from the very beginning. I then asked her why she chose I had a phone over the other service providers and she couldn't remember. It dawned on me that the only reason that she was still with Vodafone was because "she had always been with them". Undeserved Loyalty are probably the words that I would use to describe this. It made me reflect on how certain words which we often regard is always been good or not necessarily always good. From a sport / performance psychology point of view loyalty is regarded as always being a positive. But is it? What if the party you're being loyal to doesn't deserve your loyalty? A good example of this might be in a team sport. On the one sense we want the players to be united and loyal to the badge on their shirt. But what happens if that team has a poor culture and treats certain members better than others. Is it still a good idea to be loyal to that team?
With the above in mind, my mum decided to switch from Vodafone to Telstra and now her phone works exactly how it supposed to.
Monday 15th February 2021
We have now confirmed the first of the future provisional psychologists they will be joining the Condor Performance team. I will wait until she has officially started in her new role but we are delighted that she is young, she is incredibly enthusiastic and she is based in central Sydney (near Parramatta).
Tomorrow I will head off to mum's place in Wagga Wagga (NSW) for a full week of what I called Catch Up Work. Catch Up Work refers to all of the collective tasks that are contained within the important but not urgent list. In my role as the founding sport psychologist and General Manager of Condor Performance, there are literally hundreds of these little jobs. So once or twice a year I drive to Wagga and I basically put in a 100-hour working week. For anyone who is reading this who has never done a 100-hour working week, it looks pretty simple. You wake up and do a little bit of exercise then you work the entire day with small breaks for meals and then you go to bed. The following day you repeat. Of course, this is not to be recommended as the normal working routine. I, like most people, work somewhere between 35 and 40 hours a week typically. But this time only allows me to do the important and urgent stuff. The 100 hours of a Catch-Up Work Week allow me to do the rest. And maybe more significantly I get these jobs done without my work leaching into the rest of my obligations (E.g. time with my family) on a continuous basis.
Tuesday 9th February 2021
What a massive weekend for Condor Performance and dare I say sport psychology in Australia. Just over half our team managed to make their way to Sydney for a weekend of discussions. Not bad given Covid etc. David, James, Brian, Krishneel, Harley and myself made it with Mindy, Charlotte, Luke, Chris and Michelle not able to.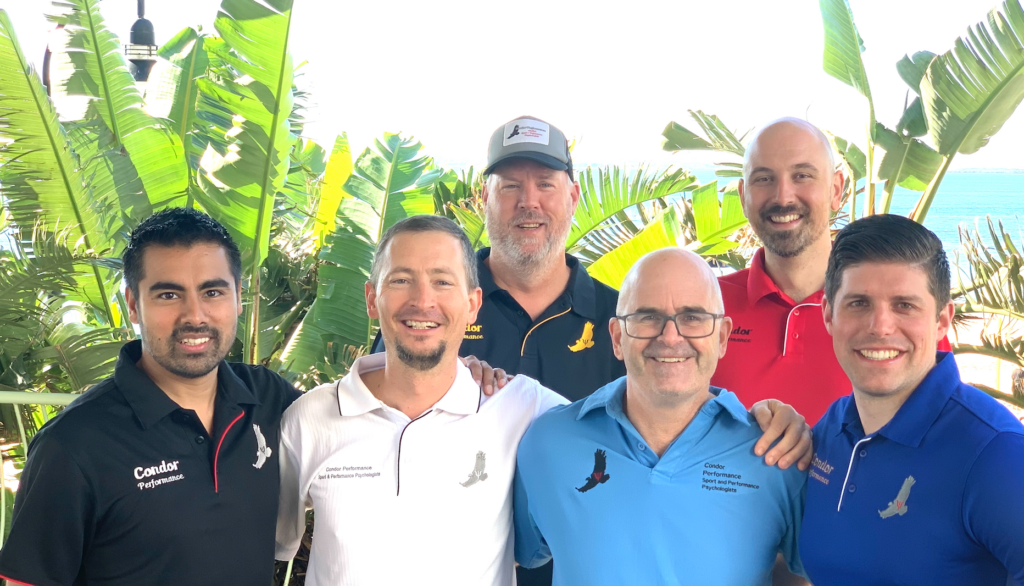 We had four 3.5 hour sessions in total. One on 'general business', one on ethics and then two on Metuf. Metuf is good but like most things could be better. The way to make it better is by getting the views of psychologists who have between them worked with a huge number of performers. Most of the tweaks we agreed on will show up later this year via new online course available at the sports.Metuf.com site. Until then, well only our monthly clients will get access to these improvements.
Thursday 4th February 2021
This is a really significant time for Condor Performance. First of all this weekend, we have our first get-together for our team of psychologists ever. I'm delighted that six of the 11 will be able to make the two-day meeting in Sydney despite there is still being significant challenges around coronavirus. I'm in the process at the moment of confirming the agenda item but it will be a nice healthy mix of general business and content-heavy professional development.
The next big thing on the Condor Performance agenda at the moment is that we look like we have secured the services of two young provisionally registered psychologists. These two professionals, both women by coincidence, will provide critical administrational and consulting support as three (yes, three) members of our team take some paternity/maternity leave during the middle part of the year. More on them later.
Monday 1st February 2021
I love it when the first day of the month falls on a Monday. It's a special exciting when it happens on 1 February during a non-leap year as we will get to in a row. March 1st of this year is also on a Monday. Why? I use natural timeframes as key mental tools both in my personal and professional life. Life is chaotic so can be tremendously beneficial to have recurring mental separators. The start and end of the day are very useful ways to not get too caught up by the past not the future. The same can be done for weeks and months. As my clients and colleagues know I often suggest that the seven day week is an ideal organic frame work for considering processes. Whilst months on the other hand are excellent at trying to achieve small performance targets.
Condor Performance stalwart Dave Barracosa and I try to catch up in person at the beginning of each month. During these meetings we essentially spend about an hour looking at the month it's just been completed. It's highly driven by statistics and objective measures. We generally leave our opinions outside of the meeting space. In the case of the current meeting, we had an excellent January in terms of statistics. We then spend a little time planning the month ahead. Questions such as where do we want to be 30 days from now? This also only takes about 45 minutes. We don't spend the rest of the day – roughly 6 hours – on our processes. Most of this discussion time is on existing processes which would potentially be improved regardless of how successful the previous month was. Sometimes we will introduce processes if the previous months have been significantly different compared with what we have been striving for.
Monday 25th January 2021
Although it is not something that we seek out we do occasionally do work which is much more about mental health and performance. This of course is something that we are completely allowed to do as sport psychologists and performance psychologists in Australia we are all registered psychologists with AHPRA. But what I have found recently is just how effective some of the classic sport psychology techniques are on common mental illnesses.
The number of my current clients are poor sleep is so helping them with a pre-sleep routine seems to be really impactful. Another is deeply depressed and is responding well to a much greater focus on her processes compared with her outcomes. This has made me reflect once again about whether the term 'sport psychology' is the most useful or not? However, until we agree on another one we might as well agree on the correct way to spell it. Recently I added a Call to Arms to have as many people vote on whether it is sport(s) psychology with or without an S. If you're yet to cast your vote you can do so here until the end of 2021.
Monday 11th January 2021
Happy New Year everybody. I find the concept of taking a break fascinating. I have essentially taken the better part of five weeks off of work. On paper, this reinvigorates me and allows me to recommence my professional responsibilities with a lot of vim and vigour. But I find the complete opposite. After extended time off I find it particularly difficult to get going again. It's almost like for me work is similar to physical activity. The longer you leave it between workouts the harder it is to start up again. When I work I get into a rhythm and routine whereby I just seem to be able to get everything done almost without having to think too much. This all comes to a grinding halt when you take five weeks off to go camping around New South Wales with your family. Does anyone else find this?
Monday 14th December 2020
Update from The Road. Although it's not designed with this in mind my current holiday across New South Wales in a camper trailer is really good mental training. Living where we do the one thing that my family and I have is an unlimited amount of space. Spending five weeks inside what essentially is a small box is quite a mental test. Not much growth comes from staying permanently inside of your comfort zone.
And there are plenty of lessons along the way as well. Yesterday, at a campsite in Adaminaby (Google It) we discovered that we were would not be allowed to use the camp kitchen. One of the main reasons we stay in campgrounds is because the camper trailer is really only for sleeping. By that, I mean having a kitchen and bathroom nearby – especially with young children – feels critical. Having successfully used the camp kitchen once already yesterday we were stopped on the way back by the owner who told us the camp kitchen was only for those staying in cabins. My first reaction was to get aggressive. The unqualified lawyer in me felt like I needed to point out that had we known as we would not have booked into this campsite. However, before opening my mouth my wife beat me to it. She went with the completely opposite approach. "Oh, we completely understand sir. Can we just go up and get our cooking equipment which we left in there yesterday?" she said and asked. Immediately the demeanour of the owner changed from policeman to pal. "Well if you're quick and you don't make too much mess then I'm sure you can use it" he whispered.
Once again I feel this is a tremendous lesson for those involved in sport. When you want something do you go in with an aggressive approach that immediately puts the other party on the defensive? Have you ever tried a nice and polite way? If not, maybe it's a time to give that a go.
Monday 7th December 2020
Something quite remarkable happened recently which I believe is relevant to so many of us nowadays. I'm about to go away on a five-week camper trailer holiday with my family where I'll only be working on Thursdays. Hence my entries here will mostly stop until January 2021. Anyway, in preparation for this trip, we have for some time been trying to work out how to take out four bikes with us. Due in part to already having a bike rack for the car which goes on the towbar and partly due to the large space on top of the camper trailer when it's closed I formed an opinion a while ago that the only way to transport the bicycles was on top of the camper trailer. So, for the last several months I have been looking at ways to secure them to this 3 m x 2 m area. There certainly isn't a standard way to do it so I've been exploring the unorthodox.
With less than a week before departure, I decided to drive to Canberra to one of the countries largest bike stores. On arriving at Pushys immediately asked, "Do you know a way to get four bikes on top of the camper trailer"? The shop attendant said he never heard anybody who had done this before. And then he asked this question "what is on top of the car"? As soon as he asked a question I realised what I had done. Some might call it Vertical Thinking, others might just say it's jumping to conclusions.
In trying to work out a way to take my car, camper trailer, family and four bikes on holiday I had failed to explore the most obvious option. To put the bikes on top of the car – for which there are many excellent options on the market – and essentially leave the camper trailer empty. I feel there is a really valuable lesson here in anybody preparing for anything. Have you taken time to look at all the different options before you pick one to go with? The biggest barrier to this by far is the lack of time. Or certainly, that is my excuse in this instance. But as the famous Abraham Lincoln quotes read "Give me six hours to chop down a tree and I will spend the first four sharpening the axe."
Friday 4th December 2020
Email to the team from David today:
Hello all,

I wanted to touch base because Condor Performance as an organisation hit an important milestone earlier today. As a collective, we have now worked with 1000 Monthly Clients since we began delivering services this way. This is a massive achievement for the whole organisation and shows how far Condor Performance has come to establish itself as a major provider of sport and performance psychology services.
A milestone of this size does not get achieved without a skilled team delivering these services and promoting a positive image of Condor Performance as an organisation. So I want to thank each and every one of you because you all bring so much to the work we do and regardless if you've worked with a large or small percentage of these monthly clients your contributions are extremely valued. I am happy to say I work with this collection of amazing psychologists.
Tuesday 1st December 2020
This morning I drove down to the coast early for a one-day meeting with David. These monthly meetings, which primarily act as a review of the month that has just ended, have become a mainstay of my work at Condor Performance and a key part of our success. One of the main topics for today's meeting was how we motivate our amazing team of psychologists to give us a greater percentage of their working time. Due mainly to the monthly approach we use to sport psychology consulting delivering services for Condor Performance is a bit harder than most of the psychology jobs. The consequence of this is a lot of psychologists who give us between one and two days a week. This has provided enough opportunities for new clients up until this point but next year and beyond we're going to need more of the team to increase their availability. The result of this discussion was a comprehensive eight-page document entitled towards 2030.
Tuesday 23rd November 2020
One of my key roles at Condor Performance is to provide official AHPRA supervision. By this, I mean that some members of our team are currently in the process of doing the registrar program towards the sport psychology endorsement. One of them, James Kneller, was lacking a few hours so we decided to put aside the better part of a day to catch up on some one-on-one supervision. Eight hours is a long time to be sitting in a room so I suggested to James that we do a "walk and talk". So this morning we headed off on a 15 km circuit through Penrose State Forest. At one point due to the recent rains, we came to a section that was flooded so we needed to improvise and build a temporary bridge out of fallen tree branches. I'm sure James thought that it was planned and part of the supervision but it wasn't. See below the picture to prove it.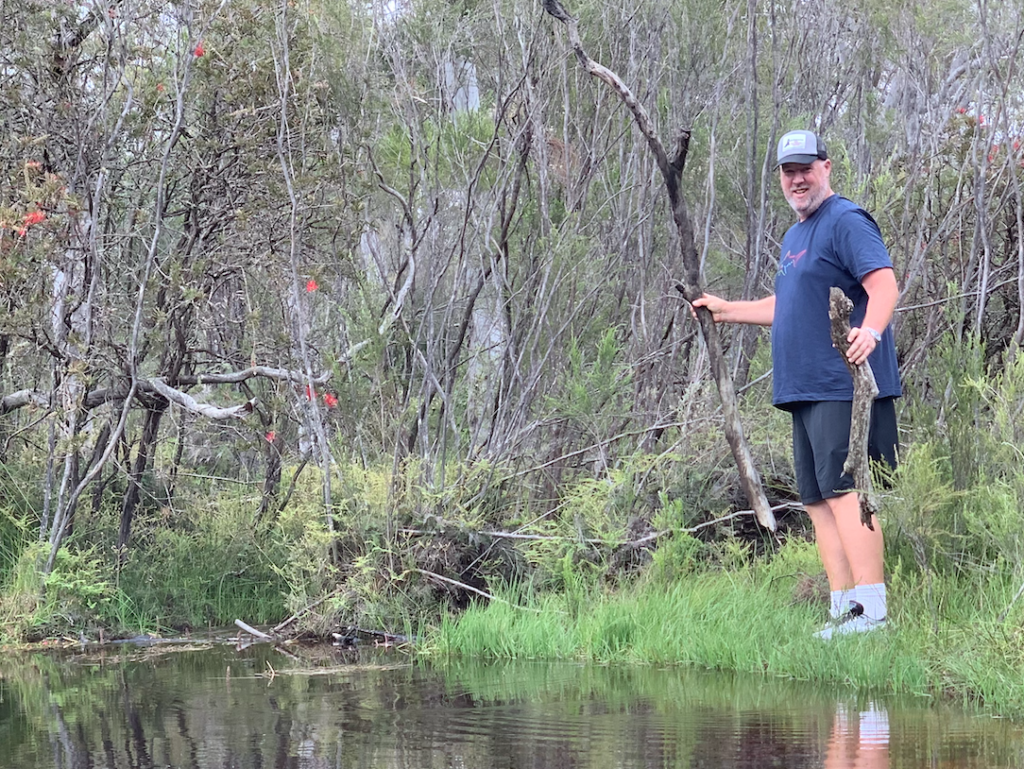 Monday 23rd November 2020
Did this quick video interview with Dave from BWA. Thought I'd add it here as both the questions and answers apply beyond hoops:
Thursday 19th November 2020
Recently I wrote a blog post about Perfectionism and have continued to think about it for a few days. In particular in relation to my garden! I am lucky to live on 5 acres of land. Furthermore, I have decided to do all the maintenance myself. So per week I probably spend between 5 and 10 hours on mowing, clipping, weeding, hedging, pruning, digging etc. One reason I do this is that it's impossible to perfect a garden of this size. I could, for example, spend 50 hours a week just on the weeding and there would still be weeds. I know what you're thinking, why is a qualified sport psychologist spending so much time gardening? It's a weekly reminder to focus on the process and let the results/outcomes take care of themselves. The funny thing is that I often get compliments about the state of our garden but I just see the weeds I missed.
Monday 16th November 2020
We have started to see the start of what we call December-itis. Basically, when we get close to the end of the year and suddenly enquiries slow down and existing enquiries start to mention "in the New Year" a lot. Luckily we have had a very strong year and we expect it so we're prepared. What do they say? Failure to plan is a plan to fail.
Some exciting news. Two of the team are newly pregnant so 2021 will contain some joy and some challenges. Apart from myself, no Condor Performance psychologist has had a child whilst consulting for us. This is where the monthly options can be tricky as the sport psychologist or performance psychologist is basically 'on call' for the whole of the month. Luckily human births come with a significant amount of warning time allowing us to offer existing clients the option of transitioning over to another psychologist whilst the new parent is on maternity/paternity leave.
Tuesday 10th November 2020
I am working from the glorious Wagga Wagga (New South Wales) this week. My Mum has an apartment here, so I will put in a massive work week free from the distractions of home from time to time. Maybe considered first world problems but juggling two children under the age of ten, five acres of land that grows as you watch it and the overseeing of all things Condor Performance can be a challenge. A week in Wagga allows me to focus on the latter with the added bonus of popping down to the river for one or two swims a day?
Friday 6th November 2020
This was the week in which the United States voted to remove President Trump after one term. Some of you might not naturally see the link between political elections and competitive sport. But for me as a sport psychologist, it's obvious. In both industries, it's all about the win. But it's also about how you win and how you react when you don't. What is hard to believe is how President Trump refused to concede defeat. You learn a lot about someone's character when they don't finish on top. In fact, I think I will expand on this topic via the next edition of the MTD. Speaking of which all recent editions can be seen via this link.
Thursday 29th October 2020
After every session, all our sport psychologists and performance psychologists send a follow-up email. From time to time I send one I feel would be worth sharing. Below is one such email, with the name of the client removed for obvious reasons:

"This is a brief follow-up from our most recent session. We briefly spoke about the importance of you giving yourself credit for the slight increase in body weight due to following the processes of priority one. Despite the fact that bodyweight is only influenceable it is still a lot more influenceable than many of the statistics that players use to increase confidence. We turned our attention to Priority 2 and spent the majority of the session talking about the Accept and Act concept. This is a very powerful mental skill that is designed to show you that feelings and thoughts are different from actions. In knowing this and practising it on a regular basis you will be able to choose preferred actions irrespective of how you are feeling and thinking. The most obvious action that you can start working on immediately is positive body language (PBL). Please try and test this out in classroom situations and by making a few errors in practice on purpose.
Accept and Act: Accept the thoughts and emotions, choose the best ACTION

See below more on PBL:
Monday 26th October 2020
Such has been the volume of enquiries this year about our sport psychology services we now have a couple of luxuries. First, we can basically ensure that each of our psychologists can work with the number of clients that want to. For some of the team, this is less than ten. For other's, it's either full time or on the way to full time. The fact that only a few of the team want more and more clients proves that the consulting we do is hard work and not for everyone. 2021 will be the year of ensuring the existing team want to slowly increase the amount of their working week is with Condor Performance.
On the weekend was both the AFL and NRL grand finals. I watched both. The Melbourne Storm won the latter and it certainly looked like one of the reasons was due to better mental conditioning. Their opponents, the Penrith Panthers, seems overawed by the occasion. So I couldn't help myself. Just did a search for the word 'psychologist' on their official website. Sure enough, nothing.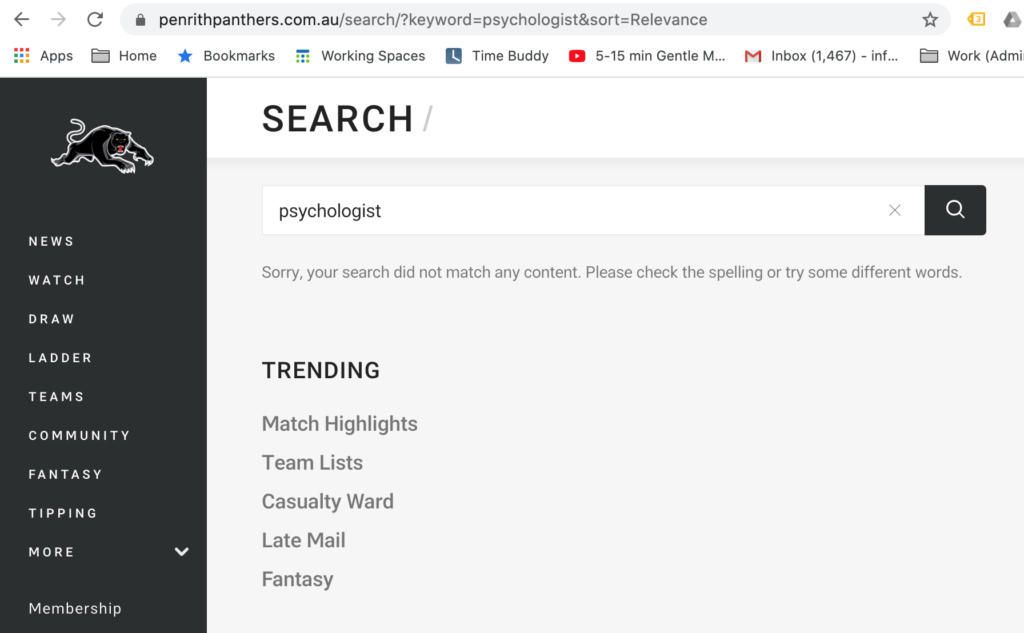 Monday 12th October 2020
Had to kill a snake on the weekend (it was in my compost). I was very scared before, during and after but accepted these natural emotions and focussed on the action (swinging an axe). You'd be surprised what you can still DO when you're s***ing yourself.
I decided to stay up and watch the Merseyside Derby on Saturday night. I can't recall the last time I saw such as a one-sided game in terms of luck. Liverpool appeared to have a whole season's worth of 50/50 officiating go against them. Their manager – normally one of the most mentally astute coaches – could not contain his frustration after the 2-2 draw. Watch for yourself in the below video of the post-match press conference.
I find it useful to ponder what I would do if I were the club's sport psychologist in this situation. My instinct would be to remind them that they don't have much / influence on all of the aspects that went against them. I would remind them that you can and should feel what you feel but that feeling doesn't mean acting. You can feel furious but still act (like an actor) calm. I feel this would have been more powerful. The world going nuts but the Liverpool players and manager appearing calm.
Tuesday 13th October 2020
Brother Ben pinged me this article overnight. It's a great article about a great coach but Mr. Klopp is not a registered psychologist.
But it got me thinking about the correct and appropriate use of the term sport psychologist (or performance psychologist or just psychologist). Many people may not be aware that the term is protected. What this means is it is against the law to use it without approval. There are pros and cons to this. The biggest benefit is it allows consumers to know very quickly that their psychologist has had to prove their abilities. This is not the case with unregulated, unprotected titles such as mental skills coach, performance coach etc. The challenge is educating the public about this very notion. We have improved in this regard over the last ten years but there is still huge amounts of "awareness work" to be done.
There are two disadvantages of the protected title 'sport psychologist'. The first is the stigma of the word psychologist. I have written more about this in the past. The second con is that many of the rules of continued registration are created by psychologists very different from us. By different I mean their work and our work only vaguely overlap. I sometimes liken us to different types of chefs. Yes, a sushi chef and an Italian chef both produce food, but their processes are very different. Getting a sushi chef to create some ravioli from scratch is like asking many traditional psychologists to help athletes and coaches with only their counselling skills at their disposal.
Friday 9th October 2020
Oops, a bit of a break since my last entry. Why? I took a small break around New South Wales with the family. Yet another upside to Covid. We are all being forced to get to know our local areas more. Would I have visited places like Mudgee, Tamworth and Coffs Harbour if it weren't for The Corona Virus?
My ability to switch off from work is still a work in progress. But I am better than I was. What certainly helps is being in a place different from where you normally work. There really is no substitute to waking up in a place you have never been before.
Back to work now and the main aim of the next few weeks is the latest member of our team settle in. Charlotte is our first non-Australian based sport psychologist having just got back to New Zealand. A former elite water polo player, clinical psychologists and in a time zone better suited to those in the USA – we are super excited to have her on board.
I never intentionally aimed for a team of eleven. But now that we have one I suppose it's kind of cool given that this is the number of player on each team for some of the world's most popular sports. Field Hockey, Football (American), Soccer and Cricket all have 11 players each.
Monday 14th September 2020
Dave is away this week so I will be handling all admin and incoming enquiries. Given how much we have grown over the last few years I am slightly nervous about my ability to handle them all. Due to the fact that we make ourselves available via phone for as long as required for those wanting to work with one of our sport psychologists then even 20 to 30 enquiries a week is tricky to manage.
I started watching the new behind the scenes documentary on Spurs last week. From a CPD point of view, it's gold, pure gold. To be able to see and hear how players interact with each other, coaches and admin staff at that level is priceless. One thing is for sure though, which I suspected anyway, is that the mental side is still not a speciality position at many of the biggest clubs in the world. It's hard not to imagine how I would go about my work if I were the 'in-house' sport psychologist of a Premier League club. For a start, if I were at Tottenham Hotspurs I insist the players stop leaving their stuff lying around the place!
Weds 2nd September 2020
Another month done, another monthly meeting completed. As we try and always do David and I caught up in person yesterday to look back at the month that has just ended and plan for the one that has just started. Here is what the raw numbers look like as of the end of August 2020:
~ We are 1o Psychologists strong; not a mind coach in sight
~ We have delivered 4400 months of sport psychology / mental training since moving to the monthly approach to consulting in 2010.
~ Together we have worked with a total of 925 performance clients over the last 10 years. Some of these clients are sporting organisations so although our sport psychologists/performance psychologists might assist a dozen individuals at a certain club or franchise this still only counts as a single client.
~ These 925 clients are 73% from the sporting world with the rest being non-sporting performers. The 675 sporting clients come from a total of 41 sports with golfers and soccer players still being the most common. Almost a quarter (154) of all our sporting clients from the past decade come from these two sports.
Monday 31st August 2020
Plans for my home office starting to come along. This is the bad boy I have in mind. My time working from Moss Vale Working Spaces will likely wrap up this year as the need for face-to-face sessions has gone from low to zero in 2020. The real advantage of working from an office at the bottom of your garden is that I will be able to work in sprints. This is the concept of working with 100% concentration/conviction for about 2 hours and then taking a proper 30 – 45 minute break. I have tried this at Moss Vale and it's very hard as there is nothing much for me to do during the breaks. At home, I can do some gardening, pop up to the house for a proper meal, play with the kids etc.
To learn more about working in sprints read this great article here. Even better give it a go and see if you like it
Thursday 27th August 2020
Our fantastic admin assistant Emily has had to take a break from work for personal reasons. Initially, I was a touch disappointed. Maybe a little like a team sport athlete who loses a valued teammate due to injury. But then I realised how much stronger and more flexible Condor Performance has become over the last couple of years. In a nutshell, the fact that we have secured the services of such wonderful psychologists has allowed David and me to do less client work. This basically means that between the two of us we can manage the extra admin workload created by Emily's departure.
Something has been bothering me recently. What is the correct spelling of sport psychologist / psychology? So I did some research. The correct term is actually 'sport psychologist' using the non-plural version of the word 'sport'.
One of the reasons why the term 'sports psychologist' (technically incorrect) gets used almost as much as the correct term 'sport psychologist' is due to two reasons. First, they sound exactly the same when you say them (try it). Secondly, from a logical point of view if the psychologist works across many sports (as opposed to just one – which most of us do) then it might make more sense to use the plural version of the word sport.
For more on this subject read this very informative blog post by Canadian sport psychologist Kate F. Hays where she correctly points out that the original correct spelling was actually without the s – so sport psychology and a sport psychologist.
Friday 21st August 2020
More quality TV for anyone interested in the mental side of performance, not just if you're a sport psychologist. The World's Toughest Race is currently streaming on Amazon Prime. Hosted by my doppelgänger Bear Grylls. I binged on all 10 episodes over the last week. It helps to put some of the mental challenges faced by our clients into perspective. These athletes and they really are athletes, are getting tested to their limits. Technically, mentally, physically and tactically to the extreme. The interviews with the teams are packed with mental toughness vernacular. Grit, perseverance, resilience, mental stamina and so much more. I was left wondering how many of the 66 teams might have engaged a sport psychologist or performance psychologist as part of their preparation. My guess, some but not enough.
Tuesday 18th August 2020
Big day, news. The interview that I did with Dan Abrahams a few weeks ago has just been published. Here is Dan's blurb and below that the actual episode:
I'm excited to release a NEW episode of The Sport Psych Show. This week I speak with sport psychologist Gareth J. Mole. Gareth spent his younger days in South Africa and credits this for his love of sport. He then moved to the UK and went on to undertake his psychology undergraduate at the University of Leeds after which he moved to Australia to complete his Masters in sport psychology at the University of Western Sydney. In 2005 Gareth set up Condor Performance, a (now) 10 strong team of Australian sport and performance psychologists. Condor Performance has grown to become the largest independent sport and performance psychology practice in Australia.
We speak about what the future of sport psychology might look like, specifically greater role clarity; stronger regulations in the field; cohesion between coaches and psychologists; the landscape of sport psychology across the world and hopes for the future.
Monday 17th August 2020
I have been thinking a lot recently about how many psychologists might be the ideal number for the Condor Performance team. The fact is, at this rate (of enquires) we could potentially have close to 50 performance and sport psychologists by the end of the decade. But just because we can, does that mean we should?
It reminds me of something from many years ago. Just after I moved to Australia, we took a trip to the Central Coast and arrived after dark on a Friday evening. We had not made dinner plans so as we were driving into The Entrance we spotted what looked like a Steak House. The restaurant was located in a huge otherwise empty lot. We parked and walked in and asked for a table for two. The maître d' smiled back and told us that they were fully booked. He went on to ask if we wanted to make a booking for not another night but another month!
Before leaving I asked why they didn't expand. After all, they had plenty of room in the lot in which they were located to triple the seating area. The maître d', who I suspect was also the owner, replied with a line that I will never forget. He said "because bigger often gets in the way of better my friend". Some fifteen years later, Condor Performance faces the same dilemma. Never say never but my feeling is that he was correct. I can see how we can maintain (even improve) the quality of our sport psychology services up to a team of about 12, maybe 15. However, beyond this, it would be very hard. The quality of our work might be compromised. And nobody wants that.
Wednesday 5th August 2020
One of the best ways to really learn more about the mental side of sport is through sporting biographies. No, no the ones where they write a book in their twenties just because they are famous. I am talking about in-depth 500+ page books that athletes and coaches write after they have retired. Why is this important? Basically, you will only get the real truth when the writer is not worried about you stealing his or her secrets. I have a growing collection of such books and as my team know I try and lend them out and encourage them to read as many as possible. Some of the best, most insightful reads are those belonging to lesser-known athletes. In due course, I will use this page to not only list them but provide a rating system as well.
But more and more nowadays the information we consume is coming from non-books. Documentaries are getting better and better by the year and last night I stumbled across a cracker. The Fall is the amazing story of the bits you never knew from the 1984 Olympics. More specifically, the women's 3000 meters where Zola Budd and Mary Decker clashed both literally and figuratively. It's a great reminder for a sport psychologist or anyone involved in the art and science of human improvement. The importance of seeing the person as well as the athlete. Zola, in particular, was seen as a product. A "thing" that could help others. In 1984 I was 8 years old and living in South Africa. So the name Zola Budd is very familiar to me. But I had no idea about the backstory. All I can recall was that Zola used to run without running shoes! Now that's mental toughness.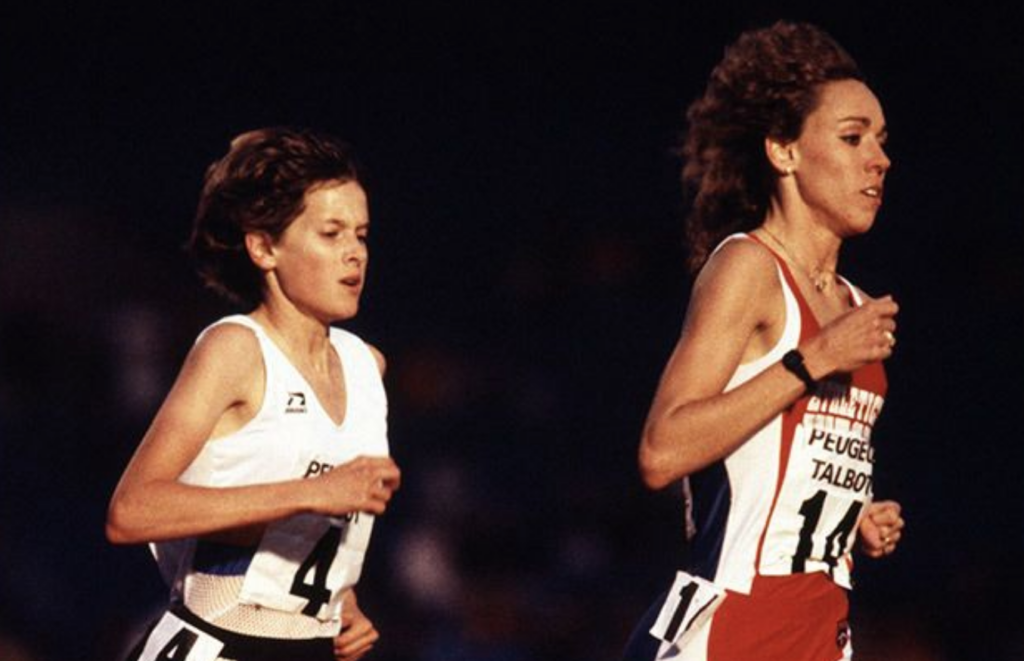 Thursday 30th July 2020
Over the last couple of days, there has been some friction between myself and one of the other psychologists on the team. There are certain company policies that we have at Condor Performance. Most of them are written in a document we call The Players Guide. This guide has evolved over the last ten years as a kind of expectation of behavioural standards. To follow everything to the letter is demanding, but it's what we expect. At Condor Performance we expect excellence in the work our sport psychologists and performance psychologists are doing. Why? Mainly as they get paid well to help others become excellent.
In the past, I would have handled the non-compliance by our psychologist poorly. By threatening them with their job. This time I accepted it and we developed a plan for this psychologist to still be involved whilst not obsessing about some of the small stuff. This was made possible by the fact that he or she does appear to be doing a great job with their sporting clients. Advice to coaches/leaders: If someone is doing an above-average job of their main work task it makes sense to cut them a little slack in other less important areas.
Tuesday 28th July 2020
At Condor Performance we love a good milestone. We love it when our sporting clients reach certain milestones, especially the ones they were targeting. But we also enjoy and celebrate our own achievements. What could a sport psychologist or performance psychologist possibly celebrate as a consulting milestone? Well here at Condor Performance, plenty as a matter of fact. Most of our milestones are around the number of months that we have delivered as individuals and as a team. And today David reached a milestone that I think may never be surpassed. He started delivering his 2500th month. The below video explains more. Dave, you truly are an inspiration to yourself, your family, your clients and your colleagues. Well done.
Monday 27th July 2020
We spent the weekend with friends. I was reminded about the impact that the Corona Virus has had on jobs and job security. It made me reflect on how well we've navigated the pandemic from a business point of view. After all, working with a sport psychologist is not essential. Sure, to some athletes whereby we're their main coach it might feel like we are, but we're not. Not in the same way that a nurse is essential, for example. So the fact that we have more monthly clients now than we did in Feburay is a true credit to the Condor Performance business model and those who work for us. Well done team.
Monday 20th July 2020
Today we reached double figures in terms of the number of psychologists we have on our team. For the first time, our potential clients have a choice between ten outstanding psychologists. The latest is especially exciting. Krishneel is fluent in Hindi which opens up endless possibilities in terms of work in India.
We are so proud of the diversity of the Condor Performance team. Our differences are what makes us stronger as a team. It allows our clients many more options compared with if we were all middle-aged white guys. With Krishneel's run-on debut this week I feel we are only two psychologists short of our Dream Team. It's a Dream Team that has been building for a decade now. For the final two places, we'll be looking across the ditch to New Zealand. There are many reasons why we'd like our final two sport psychologists to be Kiwis. But the main one is to do with the fact that in New Zealand any psychologist can call themselves a sport psychologist. I should say that any psychologist who feels capable can use the term sport psychologist legally. Not, of course, the case here in Australia.
Monday 13th July 2020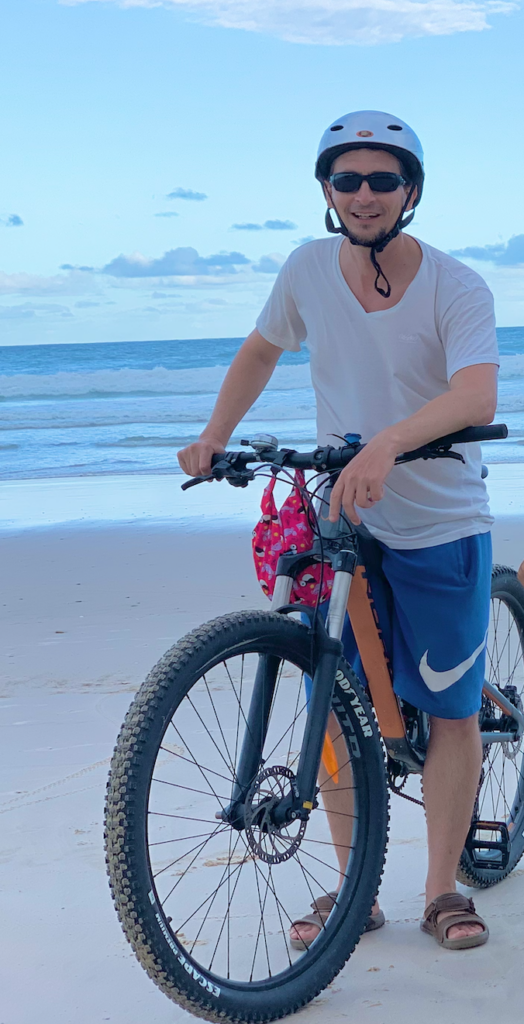 A bit of a break between this and the last entry due to taking some time off. I will not go into too much detail about how I spent this time due to wanting this journal to be about working reflections. But I will say this. The time off involved a lot of mountain biking.
Back to work now and a massive week of sessions, Luckily, most of my monthly clients kindly agreed to not have any sessions last week. This means a week or two of many more sport psychology consultations than normal. I am very proud of our monthly coaching approach but it does have one limitation. When the psychologists want to take considerable time off.
So even though we might only have two of three sessions during the month we are available to answer their emails, text questions at any time. So if we are totally unavailable for more than a week then technically we're not providing them what they have paid for. We get around this in a number of ways. First, as there are now ten psychologists consulting then new clients only start working with those who will not be taking leave in the coming few months. Second, we communicate with existing clients well in advance. So they are not expecting sessions or replies to emails/texts during times we are away.
Thursday 2nd July 2020
Just finished an epic two-day meeting with David. David is like no other psychologist/colleague I have even worked with before. In less than ten years he has evolved from a provisionally registered psychologist to the engine room of Condor Performance.
Much of our recent success is down to his effort and excellence. The two-day meeting we just had is basically a review of the last financial year and the plans for the next one. We have managed the challenges of the Corona Virus very well. Now it's time to put the pedal to the metal. Our mission statement reads:
The long-term objective of Condor Performance is to become and then remain one of the preferred providers of sport psychology, performance psychology and mental toughness services in the world. Both as a consequence and cause of this goal our aim is to create professional 'nirvana' for our staff – for them to be very well paid for something they love and are really good at.
You can follow our pursuit of this lofty aim here via this Reflective Work Journal of a Qualified Sport Psychologist.
Friday 26th June 2020
Today was my run-on debut on The Sport Psych Show. This is a podcast that I have come to really admire over the last 12 months. Even the episodes that I don't agree with are valuable. I had the idea to chat with Dan "on air" about what sport psychology might look like in 2050. In fact, this very blog post was a kind of prep for it. And that's how it turned out. I will not go into too much detail about the conversation as I don't want to spoil it before you have had a chance to listen. But we did indeed predict what the landscape for a sport psychologist would look like 30 years from now. And we created a new word too. "Hope-o-thesis" is like a hypothesis but with less evidence in which to make the educated guess. When the episode is published I shall add it here as well as a full transcription.
Thursday 25th June 2020
Today Liverpool Football Club won the most prized trophy in English football for the first time in 30 years. I know that as a sport psychologist I am not really supposed to support certain teams. Why not? Well on paper let's say you support Team X. Then let's imagine Team Z bring you in as their sport psychologist. Is the fact that you support Team X going to become a conflict of interest? Is it an issue even if you don't believe it is? With this in mind, I tend to underplay the fact that I support certain sporting teams.
But today I will make an exception. I have supported LFC since I was about 11 or 12 year of age. When I moved to England in 1986 I was asked which team I supported. I didn't have one so I asked 'which team is the best? At that time, Liverpool dominated everything. So they become my team. They won the league two more times with me as a new fan in 1988 and 1990. Before this morning, the last time The Reds were crowned English Camps I was 13. I am now 43. The competition was called The Football League First Division. It's now called The English Premier League. I lived in England, I now live in Australia. Sport was just my passion back in 1990, in 2020 it's my passion and my vocation. And to add the cherry to the cake. It appears as is Liverpool won the league by putting psychology first. Their manager, although not a qualified sport psychologist, certain carries himself as one.
With my interview tomorrow with Dan Abrahams on my mind I can't help but ponder if this is a glimpse into the future. The mental aspects of sport and life drive all the other areas.
Monday 22nd June 2020
The Premier League is back! After a 3 month break due to Corona Virus, we get to watch the rest of the season. So this morning I got up at 4 am to watch the Liverpool vs Everton game. A draw, but one more point for the reds. Only 5 more (points) needed now. It's looking very likely that it might come down to the Manchester City game next week. During the game, the first I have ever seen with no crowd, I reflected on the psychological impact of the crowd. Or in this case, the lack of one.
On paper, the crowd is not something you'd want to be too aware of. Let's put it this way. If playing in an empty stadium is an issue then maybe your focus is a little too wide during games. In the heat of the sporting battle, most of your attention wants to be narrow and external. Not so narrow that you're only looking at the ball all the time but narrow enough so you're not too aware of what's going on off the pitch.
In other news, I was delighted to hear back from Dan Abrahams over the weekend that I will be joining him on his podcast this Friday. I stumbled across Dan's The Sport Psych Show during the summer ("Bushfire Summer:). And I have binged on a couple of episodes a week ever since. I think this is a glimpse into how we might learn in the future. There is just no comparison for me between listening to an applied sport psychologist talk about his / her experiences compared with reading a book by a theoretical sport psychologist.
If Dan publishes the conversion I will link it above plus some additional reflections.
Friday 18th June 2020
Sometimes it's the really simple stuff that makes us enjoy our work. Had this video made from a YouTube clip of a Condor sent to me by a past client. I will now use it as the intro to some of our upcoming social media videos.
Oh, and heard back from Dan Abrahams about a possible date for me to be a guest on his podcast. Yippee!
Wednesday 17th June 2020
Today we completed the paperwork for the first new registar that we are supervising towards the sport psychology endorsement. It was a chance to go through the competencies, some of which I agree with much is just not in line with my values as a sport psychologist. Below I have pasted them and highlighted in green the areas I disagree with (i.e. feel should not be included).
Competencies required for sport and exercise psychology endorsement
Sport and exercise psychologists use their knowledge of psychology to provide services to the community to enhance personal development and wellbeing from participation in sport and exercise.
Consumers of the services of sport and exercise psychologists include:
elite and professional athletes
sporting teams
coaches and sports managers
umpires and referees

personal trainers and exercisers

performance artists including dancers and musicians
community groups, and
individuals and organisations interested in optimal performance.
Specific services of sport and exercise psychologists include:
the assessment of obstacles to optimal performance and design of individual mental skill and concentration strategies
athlete counselling to overcome stress, anxiety and interpersonal conflict
the implementation of team selection and enhancement programs
and specific interventions to manage overtraining, injury rehabilitation and managing work-sport balance, transitions and retirement from elite levels.
In addition to the generic competencies demonstrated by all registered psychologists, sport and exercise psychologists must have the following specialist skills and possess the following specialist capabilities:
Knowledge of the discipline:
a broad understanding of sports administration and the roles of psychologists, including in professional and amateur sports, organisations and committees administering sport, government-supported institutes, commercial sports bodies and clubs, state and local government sports and exercise facilities and initiatives, and the fitness industry
understanding the role of psychological factors in sport and exercise, including mental skill development, concentration and mental preparation, motivation, emotion and cognition science applied to exercise participation and sporting excellence
knowledge of sports medicine and science, including exercise physiology, biomechanics, human kinetics, motor learning and control, nutrition and eating behaviour, and sports injuries
info of evidence-based psychological techniques for assessment including standardised measures, interview methods and video analysis, and
knowledge of evidence-based psychological interventions applied to sport and exercise, including coaching, counselling, and group and team interventions
Ethical, legal and professional matters:
understanding ethical issues in various sport and

exercise settings

and how to appropriately manage them (for example, issues of working with minors, informed consent, managing confidentiality within teams), and
competence in communicating a sport and

exercise

psychologist's ethical obligations to others (for example, coaches, teams, families)
Psychological assessment and measurement:
Competence in the use of survey, interviewing and structured questionnaire methods relevant to the psychology of sport and exercisecompetence in the use of assessments relevant to determining factors sometimes associated with participation in sport and exercise, including:
stress, including anxiety and depression
pain and injury profiles
eating and dietary issues
drug abuse or dependence
interpersonal conflict, and
sexual harassment
competence in using multiple methods of evaluating sport and exercise psychology status, including video analysis, psycho-physiology, behavioural assessments, collateral reports, single case designs, group ratings, and measures of mental flow and mental control
intervention strategies:
individual approaches, including cognitive and behavioural interventions, including mental skills training coaching psychology, including for motivation and goal setting, and counselling, including for stress, interpersonal and lifestyle issues group approaches, including: team building techniques, including facilitating group cohesion, and coaching psychology, including for performance enhancement community approaches, including: education about the psychology of exercise advocacy for health and wellbeing, and social marketing promoting health and wellbeing from exercise and sport
research and evaluation:
Identification of psychological questions that arise from sport and exercise psychology practice and the design of appropriate research strategies communication of research methods and findings to non-psychologists in sports, health and community settings, and the transformation of research and evaluation findings into policy and program development
communication and interpersonal relationships:
Communicating psychological factors relevant to sport and exercise to:
athletes
coaches
administrators
community groups, and
the public
provision of consultancy advice about psychological matters relevant to sport and exercise participation
communicating the obligations of a sport and exercise psychologist in various roles and settings (for example, to umpires, the media and press), and understanding the role of psychologists within the multi-disciplinary administration of sports and exercise, and to be able to demonstrate effective interpersonal communication skills, both orally and in writing, within multi- disciplinary teams of coaches, physiotherapists, dieticians, exercise scientists, sports physicians and other health and exercise professionals
Working with people from diverse groups:
the ability to apply knowledge and understanding of how the practice of sport and exercise psychology is influenced by social, historical, professional and cultural contexts. This includes demonstrating the ability to competently and ethically practice with people who differ from the psychologist in ways including, but not limited to: differences in age, race, colour, culture, gender, geography, language, sexual orientation, educational attainment, and socio- economic status and religious-spiritual orientation. This includes sensitivity and knowledge of working with Aboriginal and Torres Strait Islander peoples
Practice across the lifespan:
competence with clients in childhood, adolescence, adulthood and late adulthood, as relevant to the work of a sport and exercise psychologist in the context in which the psychologist is employed.
Monday 15th June 2020
I don't normally work on the weekends but this past one was an exception. Fellow Australian based sport psychologist Kirsten Peterson organised a free, two-day CPD event. (CPD stands for continued professional development and is a compulsory part of maintaining registration as a psychologist). On Saturday I set up the projector and large screen in my home office and watched interview after interview. Most of the speakers were Australian so although I didn't know them all personally I had heard about the majority.
At the end of the Sunday, although exhausted, I was pleasantly surprised by what I had listened to. Naturally, I disagreed with a number of the assertions made but I suspect this is both normal and healthy. One of the common points of disagreement was around whether humans can or can't control their thoughts and emotions. As I explain in the Thoughts section of Metuf Online I am very confident that it's better to refer to the varying degree of influence. I avoid using the C work all together in my work now.
After the event, I did draft an email to one of the speakers but decided not to send it as it does appear to come down to what your definition of control is. I have always thought of control as being like "ensure" even "guarantee". So when I say that people can't control their emotions I am saying we can only influence then, we can't guarantee them. Furthermore, control and no control are too simple, too black and white. The comeback from some might be that control doesn't mean guarantee. As can be seen via the various official definitions of the verb to control here it does appear that control can mean influence a lot. So why then does it sound much better in my head to simply use the word influence (none, little, lots, huge amount)?
Maybe control is where influence goes to the dark side. By this I mean maybe it is factually and semantically accurate to say that some people can control their actions for example. But it is in their best intersted to believe this or are they better of believing that they have a huge amount of influence?
I would be glad to hear from a fellow sport psychologist or three on this very topic by using the comments section at the very bottom of this page.
---
Wednesday 10th June 2020
Two 60 minute supervision sessions with Harley and James today on the same topic. On the weekend there is going to be a free CPD event called "Thriving in Uncertainty: Insights from Elite Performance Psychologist". The event is free and so due to the CPD requirement of their registrar program, I suggested they both attend despite it taking up the whole weekend. I say despite as I am a huge advocate for the importance of rest so part of me is not thrilled by the fact that they'll have to sacrifice most of their weekend for this.
Due to the fact that we are now the largest private practice of sport psychologists and performance psychologists in Australia, it feels wrong for us not be to included in these kinds of events. But just like in sports, we do most of our talking on the pitch. Our growth speaks for itself, for the people involved with Condor Performance.
I was tempted to suggest which speakers – half of whom I know – the guys should and should not listen to. In the end, we agreed we'd focus on messages, not the messengers. We'd play the ball, not the man (or woman).
Tuesday 9th June 2020
I made physically exhausted after the long weekend. We had some "sporty" friends come to stay for the whole weekend. So each day we did something active with the kids. One of these was playing a full-length football match on the new pitch that I laid over the summer. I consider myself pretty fit for someone in their mid-40s. But jogging and swimming fitness is totally different from the start-stop requirements of football. I didn't really notice during the match but this morning I could hardly walk. I desperately need the heated swimming pool in Moss Vale to reopen. The heated water seems to have almost magical benefits on niggles and stiffness. Alas, I suspect that indoor swimming pools will the amongst the last type of facility to reopen after the coronavirus restrictions.
Speaking of the post-Covid-19 era, all our business KPIs are up (better) in May than they were in April. The number of active monthly clients, which peaked in February at just over a hundred and then dropped back to 80 in March today got back to 100 again. We have been accused in the past of over measurement, of been too interested in the stats. But I must say, by measuring the most important aspects of your businesses (processes and outcomes) you remove the guesswork during uncertain times like these. Condor Performance and our collective goals will be largely unaffected by this pandemic. I know this because the numbers tell me so.
Wednesday 3rd June 2020
To say I have a lot of work balls in the air at the moment would be an understatement. Unlike most of the psychologists who work for us, who spend almost all of their time focusing on our sporting clients, I wear many other hats at Condor Performance. It's only Wednesday and already this week I have had lengthy conversations with accountants, our partners and some potential partners. Both of the latter two had some encouraging signs related to the awareness of Fake Practitioners operating in the sport psychology space. I have always chosen to ignore what some people describe as charlatans. Why? I suppose it boils down to a preference for focusing on the positives of our sport psychologists and performance psychologists instead of being distracted by the "opposition".
There are some early signs that those who are clearly charging for psychological advice but who have no formal qualification in this area might start getting a tap on the shoulder.
In the evening we continued to watch The Last Dance on Netflix. Documentaries like this one should be compulsory viewing a wannabe sport psychologist. Far too much of my training was theoretical. During the supervision that I currently provide, I am more likely to suggest something like a sports documentary than a textbook. The 10-part documentary series provides an in-depth look at the Chicago Bulls' dynasty through the lens of the final championship season in 1997-98. The Bulls allowed an NBA Entertainment crew to follow the team around for that entire season, and some of that never-before-seen footage is pure gold.
Tuesday 2nd June 2020
A new month, a whole bunch of new opportunities. I assume I am a little odd when it comes to my relationship with time. By this I mean I use and consider certain timeframes in a way very, very few people do. As my current and past sporting clients will know I have strong views on how best to use (think of) weeks, months and years.
Years are the best timeframe for long term goals. In psychobabble, these are called outcome goals and tend to be the type you might dream about. For example, you might have the aim of winning a certain number of matches in the upcoming season. These types of goals, which more recently I have been calling Preferences, can be useful especially if you're low on motivation. Weeks are ideal to focus on effort and processes. What can I do this week to improve my sleep? And months are the ideal bridge between the two via some kind of progress checker. For example, you spent 20 hours during May trying to improve your focus. So on 1st June, you do some kind of concentration self-assessment. Handled in the right way, I feel all three of these ought to be essential ingredients in all individuals and teams looking to get the most out of themselves. Often when I am the consulting sport psychologist to pro sporting teams I am mainly making sure everyone is using the above. Then I leave and let them enjoy the fruits (outcomes) of their labour (effort/processes).
Thursday 28th May 2020
One of my favourite things to do during the Aussie winter is go for an ocean swim at the Beverley Whitfield ocean pool in Shellharbour (NSW). Until last week the pool has been closed to the Corona Virus. So I drove down the mountain with extra enthusiasm this morning knowing it was open just in time for winter. The car trip from Moss Vale is just over an hour so ideal to listen to a podcast or two. This morning I enjoyed Dan Abrahams' conversation with Brendan Cropley via the 90th edition of The Sport Psych show. Wow, too many excellent topics for me to go through here. I was especially pleased to hear them talk about the benefits of a sport psychologist knowing the language of sport. The lads spoke about the pros and cons of having a sound understanding of the sports of your clients. From my point of view it's 80% pros. It's better to have it and not need it than want it and not have it.
I got back to Moss Vale at 10 am on the dot and due to my salty morning indulgence felt obliged to work without a break until dark. Normal for most people, but I normally prefer to work in sprints (see entry below). Over the last week, I have been vastly improving the format of the shared Google sheets file I use with all of my clients. I am not sure about how many of the other Condor Performance psychologists use this specific tech but for me it's essential. The new format has passed the first two tests before I can role it out with all of our sporting clients. Test one is that it feels right to me. Test two is that is ticks many of the boxes suggested by recent research. The final test is to present it to the rest of the team and get their feedback. Only then will it be ready.
Monday 25th May 2020
Another packed Monday. Exactly 12 hours of high concentration, high intensity and highly varied work. Working in sprints really helps. Working in sprints basically involves doing about 2 hours of work and then taking a 30 minutes break between each of these sprints. The premise is simple. Human brains are not designed to focus fully hour after hour after hour. There is a very good reason why very, very few school or university classes are longer than 2 hours.
I also use a rough routine to make sure I have some idea about what I will be doing in each of these blocks. I try and keep my Monday morning blocks free from sessions with my monthly clients. This allows me to go through all their files and reminder myself how best to assist them as individuals. More or less in line with one of my favourite quotes of all time:
If I had eight hours to chop down a tree, I'd spend eight sharpening my axe."

Abraham Lincoln
I try to spend about 20 minutes at the start of each week "planning" for each of my sporting clients. This might not be possible for some sport psychologists. So, I suppose I am lucky in that due to having the limited number of clients at any one time I can do this.
Also, I spent some of today researching professional bodies (unions) as due to the size of Condor Performance I am noticing a greater need for such a concept. A not-for-profit organisation designed to assist sport psychologists like me with the stuff we can't do or don't want to do but that needs to be done nonetheless. Of all the professional bodies the website of The Australian Association of Psychologists Inc (AAPi) looks the most promising so I send them as email – watch this space.
My early evening sessions went well. It's great to see how much more comfortable clients are at having session via Zoom now. It's hard not to reflect back to 2008 when we first starting using videoconferencing and it was considered "controversial". This is one silver lining to the current Corona Virus.
Saturday 23rd May 2020
Sometimes the boundaries between personal and professional get blurred a little. This seems especially true for a sport psychologist. Such was the case this evening when we watched The Dawn Wall documentary. Are you kidding me? For those of you who have not seen it is an unbelievable story of perseverance. Free climber Tommy Caldwell and climbing partner Kevin Jorgeson attempt to scale the impossible 3000ft Dawn Wall of El Capitan.
The movie made me remember a couple of key truths about the work I do as a sport psychologist. First, some people have unbelievable amounts of organic mental toughness. Tommy and Kevin's motivation and emotional intelligence appeared to be almost natural. A little like the hand-to-eye coordination of some young athletes. Secondly, it's a reminder that although some athletes and coaches regard their sport as 'the ultimate mental test' is rarely is.
With all due respect to my many golfing clients and other golfers who feel like a 2 footer on the 18th to make a playoff is 'real pressure', watch The Dawn Wall and let me know if you still believe this. When the margin for error is so low and the consequences are so high (survival, not sliver medals) then it can put a different perspective on things. I am undecided if I will actually suggest to my sporting clients to watch The Dawn Wall or nor. But if I do, I shall be sure to include their feedback here.
Friday 22nd May 2020
I am starting this reflective journal in the middle of a global pandemic. So I thought it might be fitting to kick off with a little advice. Although these suggestions (below) are related to the Corona Virus they could easily be used for other mentally challenging situations. Note these are just instinctive suggestions of a qualified sport psychologist. No attempt has been made to cross-check the tips with the lastest sport psychology scientific literature.
The above is the first very entry of this Sport Psychologist Reflective Journal. Therefore there are no entries older than this one from Friday 22nd May 2020. Just my memories!