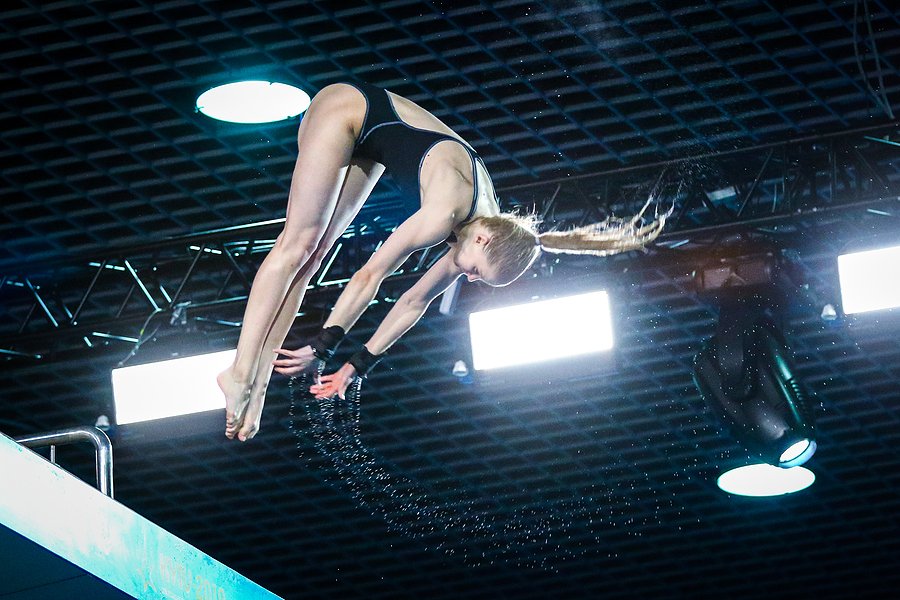 Conquering New Heights Through Mental Training
WaterSports meets Gymnastics. A combination of the pool and the gym has produced the sport of Competitive Diving. When we mix two such demanding sports the end result is something extraordinarily demanding. But despite diving's requirements for incredible strength and technical ability, it's arguable that the mental aspects of the sport really separate the best from the rest.
The nature of competitive diving is more complex than a lot of us realise. We can separate diving into two main disciplines, springboard and platform, and there is an opportunity for athletes to dive from a variety of starting positions including forward, backward, reverse, inward, twisting and armstand. Divers are then scored on their performance by a judging panel (consisting of 5+ at international competitions) across a series of dive elements, including approach, takeoff, flight and entry.
The Specific Challenges Of Diving
Divers face fear on a daily basis. The margin for error in diving is so small, one wrong movement and the impact of the water could leave you with a broken bone or dislocated joints. Not only are divers required to enter the water with minimal splash travelling at extremely fast speeds (of up to 55kms per hour), but they're required to perform a series of technical acrobatic movements with artistry and precision as they fall.
Diving can certainly be classed as a high-impact sport, and it is this in combination with our natural fear of heights that makes diving a particularly challenging sport mentally. Diving is obviously made up of a large technical and artistic component, but there is also a huge mental component to diving we don't often see.
Consistency Is Key
As is the case with many competitive sports, consistency is extremely important as part of Competitive Diving Psychology. For much more on the subject of consistency read this "ahead if it's time" article by Condor Performance stalwart Chris Pomfret.
But one thing our mind is really good at is remembering what we've done in the past and using this to inform what we do in the future. For diving, this can be helpful from a technical point of view, through mentally correcting our form on our previous dive and using this learnt information to improve the next one. The downside to this is that thinking about the last dive often results in the onset of a lot of worry about the next dive, regardless of its outcome.
Think about it. After a good dive, we feel great and want things to continue going our way. The only way we can do this is to back it up and perform another good dive, and this (outcome) is now at the forefront of our minds. On the other hand, after a 'not so good' dive, our default response is to think about what we did wrong and how to make sure we don't do the same thing on the next one. Ensuring the next dive is better (another outcome) is now at the forefront of our minds. It's a lose-lose situation here. Whether we do or don't do a great dive, making the next one better becomes our focus by default.
Noticing And Working With Our Mind
There are a few things we can learn from this. The first is that our mind is very outcome-driven by nature, meaning that in response to a situation its first job is to predict the outcome of the event and use that to inform any future decision making. What divers need to become really good at doing is noticing when their mind sneakily slips into outcome-only thinking. Building an awareness of our mind's automatic response to certain situations is important, as only then we can choose to focus our attention back on what we need to be doing. That is, performing the actions we train to do every single day.
The second thing we can learn from this is that no matter how we go on the previous dive, we're probably never going to feel 100% confident going into the next one. When things are going our way, we often become so fused with the idea of keeping it that way that we lose track of what we actually need to do to keep things going our way. When things don't go our way, we become fused with the idea of getting back on track, and the same thing happens.
Unfortunately, we can't help the fact that our mind does this. What we can do instead is notice when it does, acknowledge the reason it does this (evolutionary history and survival instincts), accept that it has happened and choose to focus our attention back on our actions/processes. This is the key ingredient to great Competitive Diving Psychology.
Battling Your Mind
On the topic of our brain trying to work against us in the diving sphere, divers will often describe knowing they can do the dive (because they've trained for it and done it plenty of times before), but having to argue with their mind telling them all the reasons not to do it. This creates a bit of a tricky situation; knowing you can do something, feeling scared to do it and having your mind tell you not to do it. And talk about vulnerability. Standing high above a pool in your swimsuit on a relatively flimsy's springboard. Nowhere to hide up there.
What most of us don't realise is that getting into an argument with our minds is actually the source of the problem. Our mind is a reason-giving machine, so it's great at debating and intellectualising, and it's even better at arguing its way out of situations that make us uncomfortable. Sometimes it is very helpful for our brain to do this and for obvious reasons (keeping us safe), but in the sporting world and particularly in diving this has the potential to do us more harm than good.
Accepting And Working With Fear
The first step in overcoming fear is accepting it's a part of the sport. To be successful in diving, athletes need to learn to accept fear as part of the process, and with this comes an understanding and acknowledgement of the ways in which our minds might try to work against us. It is our mind's job to generate and predict all possible outcomes of going through with the dive, particularly the undesirable outcomes, as part of its role in survival. So for competitive divers wanting to think more positively, it's just not a realistic goal. A goal that is realistic is accepting fear, reframing it in a way that is more helpful, and bringing awareness to the ways in which your mind might try to talk you out of doing what you want to do.
Reframing Fear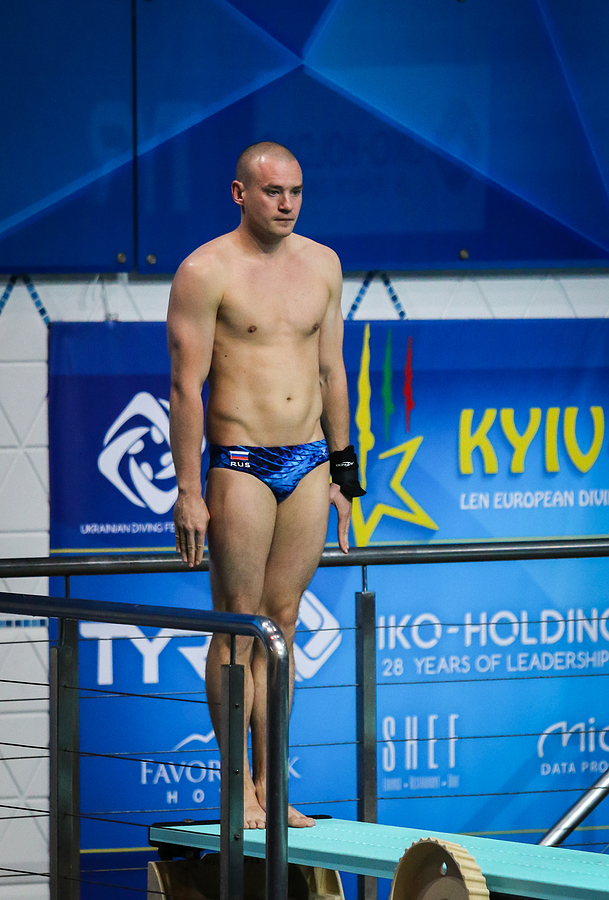 The idea behind reframing is shifting your view from one perspective to another. This can be very helpful when it comes to fear and other strong emotions. Sure, thinking about belly-flopping off the 10m platform is scary, frightening even. But doesn't this make us that little bit more alert than we would be if we weren't afraid? We can choose to view these "protective" thoughts as a warning, but one with a level of helpfulness associated.
If we didn't overthink and fear the worst possible outcome we wouldn't take any caution, and some level of caution is certainly needed when the margin for error is so small. Rather than seeing these thoughts as something out to stop us from doing what we want to do, we can choose to see them as a warning and that something important is about to happen. We can reframe this experience as the mind and body preparing us for something special.
They Are Only Thoughts …
Another part of overcoming this mental hurdle is preparing for the argument our mind is likely to start come competition day. In the lead up to an event, it can be beneficial to think about how our mind is likely to debate the actions we need to perform, and what it might say to try and talk us out of it. Knowing our mind is likely to try to talk us out of it firstly prevents this from surprising and/or shocking us on the day (which is sometimes half the problem), and it also allows us to plan for how we might want to respond to it. Through doing this we are making room for these private experiences (thoughts and feelings) on competition day, rather than trying to fight them or get rid of them. We are ultimately bringing awareness to our potential thoughts before the day has arrived, reducing the likelihood of us getting caught up in them when we need to be focusing on our performance. Of course, it's not essential that you do this with the guidance of a qualified sport psychologist or performance psychologist but more and more competitive divers are choosing to do it this way (less guesswork, more evidence-based etc).
Get In Touch Via The Below Form