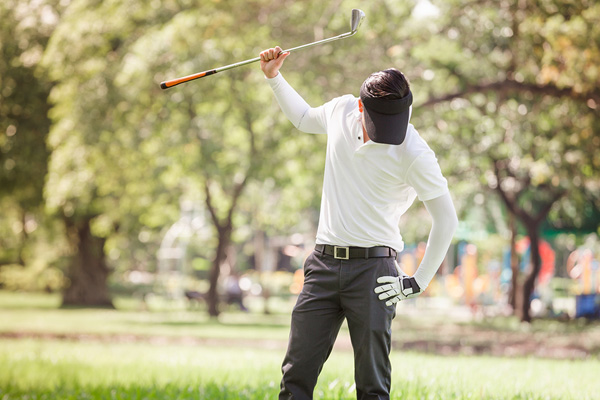 Golf Psychology Combines Both The Mental and Tactical Aspects of Golf
At Condor Performance we have always worked with a lot of golfers. In fact, since we started providing performance psychology services we've worked with more golfers than athletes of any other sport.
One of the many bonuses of this is that we have really come to know the weird and wonderful game of golf well. Our collective familiarity with golf is now so good that we might consider using the term 'golf psychology' to describe what we do with golfers.
In the future, it's likely the concept of sport psychology will be replaced by performance psychology. When this happens, a psychologist with considerable experience within a performance area (like golf) should be allowed to call themselves a 'golf psychologist'. I would happily and confidently refer to the entire Condor Performance team as golf psychologists in golfing contexts.
Why Do We Work With Some Many Golfers?
Golfers are amazing at understanding that their sport is very psychological in nature. Every golfer that has ever played the game has found out the hard way that good swing mechanics will only get them so far. Maybe it was because of a lapse in concentration that resulted in a four-putt. Or just the natural frustration of not knowing why the ball sometimes goes where you want it to and sometimes it doesn't. Most golfers don't need to be convinced of the fact that their sport is mostly won and lost between the ears.
Interestingly, many golfers think the famous Yogi Berra quote was about golf when in fact it was about baseball. The actual direct quote from 1925 was "Baseball is 90 per cent mental. The other half is physical." Somehow this evolved into a version uttered by golfers the world over that "golf is 90% mental". But is it?
Golfing success, like with any individual competitive sport, is made up of about half non-golfing aspects and half very sporty elements.
Golf Psychology and the Metuf Model
Our Metuf model includes the below analogy of the golfer being like a four-engine plane. The main body of the plane is mental health and wellbeing – and would contribute about half towards golfing success.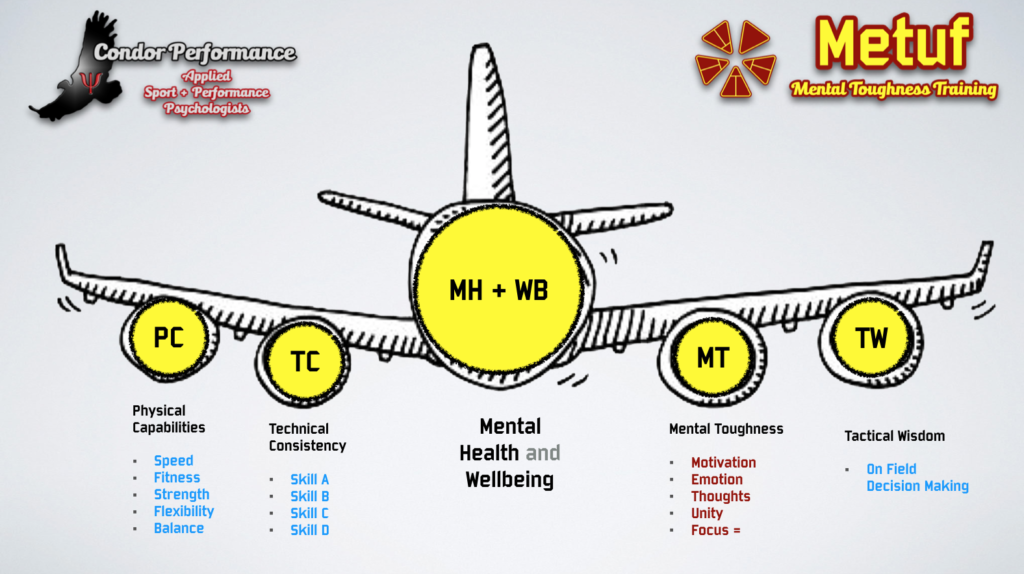 This half needs to be prioritised first. Why? Because it's more important to be a happier person than an excellent golfer. The other half consists of the four pillars of modern sports science. Physical, Technical, Tactical and Mental. Tactical is obviously psychological so when I think about golf psychology I am also thinking about on-course decision making.
I recently watched the episode of the Netflix docu-series Loosers featuring Jean van de Velde. During which he reflects on the heartbreak from his famous last hole of the 1999 Open Championship. I was 23 at that time which was the peak of my obsession with all sports but I couldn't remember most the details. On watching the episode it reminded me that it was a decision making error than actually cost Jean victory that year. On the final hole, with a three-shot buffer, he decided to try and carry the "burn" protecting the green. He didn't choke, he made one very poor shot selection. The right decision, of course, was to lay up well before the burn.
Golf is 25% Mental To Start With
So golf starts out being 25% mental and then increases from that point due to the fact that it commonly gets ignored – but not by everyone.
A growing ratio of our sporting clients are actually coaches rather than athletes. Many of these coaches are golf coaches or instructors. They come to us when they realise that traditional coaching pathways fall woefully short when it comes to helping them become great mental coaches. We love this approach to golf psychology. The sport psychologist upskilling those in the trenches with the golfers. We literally teach them how to help their golfers master the mental games from the very time that they take up golf in the first place.
Pre Shot Routines Are Essential
A great example of the benefit of this approach is through the use of Pre Shot Routines. PSRs are at the centre of golf psychology because they focused on the 10 to 15 seconds before each short. As my golf clients know after you have established a basic swing I believe that every shot – included those in practice – should follow a PSR. I have seen golf coaches break down into tears when I explain to them that golf shots in practice without a PSR is not actually golf practice at all. Ball bashing, maybe but it certainly doesn't resemble what will take place out there on the course.
Below is an old video that I dug up to explain how to develop Pre Shot Routines for golf. Note, the video is outdated now so I suggest you watch with curiosity more than trying to copy every single element.
Only 1.5% Of A Round Of Golf Is About The Swing
You need to remember that about the 98.5% of a round of golf – for pros and amateurs alike – does not involve hitting a golf ball. Defined from the start of the backswing to the end of the follow-through. Do the maths if you like:
4 hours = 240 mins to hit, let's say 80 shots. Each of those shots takes about 2 seconds. 80 multiplied by 2 = 160 seconds or about 3 minutes. So about 3 of the 240 minutes of a round of golf requires "swing mechanics". Or another way to look at it is 3 hours and 57 minutes of a round of golf has nothing to do with how well you can hit the ball. That's 98.5% in case you're still doing the maths.
But don't take my word for it. Here are some my top favourite golf psychology quotes from golfers you might have heard of.
Great Mental Game Golf Quotes
It's such a psychological and mental game, golf, that the smallest wrong thing at the wrong time can distract you from what you're trying to achieve.

Lee Westwood
You could have all the tools in the world, but if you really don't want to be there, or if there's something that's off course that's playing on your mind. The game of golf is so mental, and if you don't have everything in the right order, it's very difficult to win golf tournaments.

Jason Day
Rest is huge because if you're sleep-deprived, that can definitely run into the mental side of the game and can definitely hurt your game if you're playing tournament golf.

Jason Day
Staying in the present is the key to any golfer's game. Once you start thinking about a shot you just messed up or what you have to do on the next nine to catch somebody, you're lost.

Paul Azinger
If you are a golf coach looking to improve the way you coach the mental side then start is by completing our Mental Toughness Questionnaire for Coaches here.
If you're a golfer then fill in our Mental Toughness Questionnaire for Athletes and one of our "golf psychologists" will get back to you.