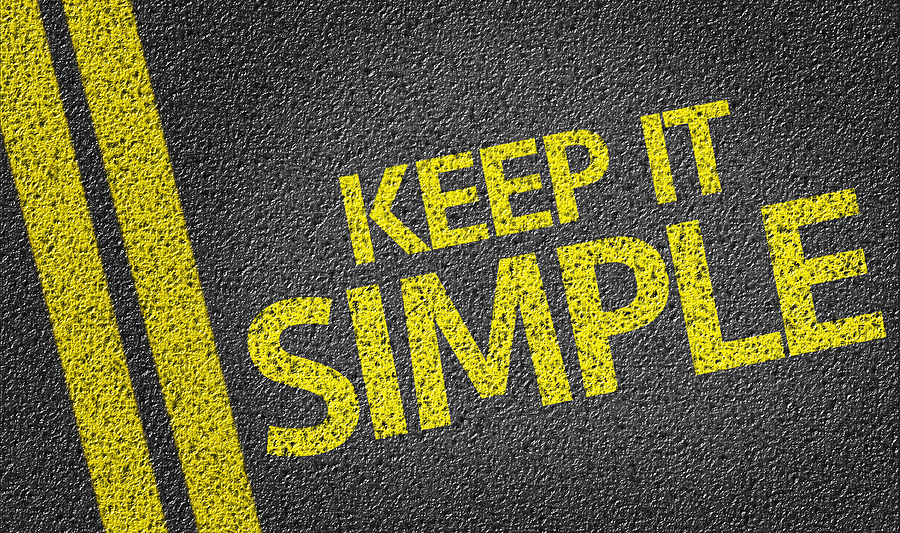 Keep It Simple, Stupid!
Never heard of The KISS Principle before? I'll bring you up to speed via this Wikipedia entry:
KISS, an acronym for "Keep it simple, stupid!", is a design principle noted by the U.S. Navy in 1960. First seen partly in American English by at least 1938, the KISS principle states that most systems work best if they are kept simple rather than made complicated. Therefore, simplicity should be a key goal in design, and unnecessary complexity should be avoided. The phrase has been associated with aircraft engineer Kelly Johnson. The term "KISS principle" was in popular use by 1970. Variations on the phrase (usually as some euphemism for the more churlish "stupid") include "keep it super simple", "keep it simple, silly", "keep it short and simple", "keep it short and sweet", "keep it simple and straightforward", "keep it small and simple", "keep it simple, soldier", "keep it simple, sailor", "keep it simple, sweetie", or "keep it sweet and simple".
Maybe for the work we do it wants to be "Keep it simple, sportspeople!" 😊
The KISS Principle For Sports
Competitive sport has one inherent issue. And this issue is becoming more problematic every single year. It is this. As athletes become better they attract more advice. Sometimes this advice is part of a sporting team. Other times it might just be well-intended tips from Uncle Joe. But what you end up with is a scenario where at the pointy end of sport it often feels anything but simple. Team meetings all of a sudden resemble something you might associate more with NASA than netball.
The consequence is something we as psychologists refer to as mental load. Someone's mental load is the quantity of information they are trying to keep in mind at any point in time.
Imagine This Scenario
A professional athlete has a series of compulsory consultations and meetings every week.
First up, a chat with the Technical Coach. An hour-long video analysis session of biomechanical discrepancies. "Your left arm is too bent". "You should be closer to the ground". "Could your hands be in a better position for those ones"? Oh and the sports scientist at the back of the room also chirps in with some data as well.
After this, it's a quick break then straight into a similar-length session with the physical team made up of two physiotherapists and an exercise physiologist. This session is more practical but there is still plenty of information flying around.
Finally, it's back-to-back sessions with the Manager and sport psychologist. Oh, but only after lunch with the sports dietician. That's right. A potentially restful lunch becomes a double-tasking endeavor of actually eating whilst trying to understand the impact that carbohydrates can make at different points during the training cycle.
I think you get the picture.
Although the advice at the more competitive end of sport is generally speaking well intended and mostly useful there is no denying that there is a lot of it. And in the opinion of this specialist – generally too much.
Individual Differences
As we have mentioned many times over the years during editions of the Mental Toughness Digest individual differences are a big deal. In the context of mental load and the KISS Principle, it means that some people are just more able to take on lots of advice compared to others. It is tempting to say that intelligence plays a role in this but there is no evidence for that. Probably the biggest predictor is the ability (mental skill) to filter or sort advice. In other words not necessarily treat all information equally.
One of the quotes on our ever-increasingly popular quotes page by fellow sport psychologist and Condor Performance colleague James Kneller gets straight to this very point.
"Listen to everyone because even an idiot will have a good idea once or twice in their life. Then evaluate and pick out what works for you and commit to it."

James Kneller, Sport Psychologist
The KISS Principle Provides An Answer
It is your job, as the performer, to work out a system whereby you can keep things as simple as possible. There are many ways to use the KISS principle for Sports but here are four that I would highly suggest.
Be as process-focused as possible. Work out what actions or activities are most valuable in training and when you're competing. Try and become consistent in these. Let these dominate your mindset, rather than results. Ask yourself a question what's the smallest list of fundamental skills required for your sport. Then try and become world-class in just those. Yes, even at the pointy end. Yes, even if you're getting paid and it feels like you need to be doing more.
Consider yourself to be your own Head Coach. Remember you are the one out there having to execute the skills under pressure. So even though you might actually have a head coach ultimately they are just another advice giver. The recently retired legend Roger Federer was an athlete who essentially considered himself to be his own coach. And it seemed to work out pretty well for him, don't you think?
Keep a Thought Diary. This is most easily done as part of a training diary. Worrying is normal. But worrying about being worried is not. List your worries at the end of each day or week and let that lighten the mental load.
Learn to prioritise. Currently, the research department at Condor Performance (me 😊) is working on a framework that will incorporate prioritisation as a key aspect of progress. But in the meantime just follow the advice of this Russian proverb. "If you chase two rabbits, you will lose them both". Maybe limiting our focus to just a single area is a bit extreme. But the premise is sound. Prioritisation is highly effective in reducing mental load.
The Men's English Cricket Team
I do not have as much information on this as I would like but I have been made aware through contacts that the Men's English Cricket Team is currently undergoing a simplification process. Rob Key (the new director of England men's cricket), Brendon McCullum (the new head coach), and Ben Stokes (the new captain) all appear to be fans of The Kiss Principle.
If fact, so simple are they keeping things that Brendon McCullum, in this interview with The Guardian, signed off from a transformative first summer as England's Test head coach with a shrug about "not doing a lot".
Do You Need A Hand?
If reading this article has piqued your interest in working on the mental aspects of your performance but you don't feel equipped to go it alone then get in touch and ask about our one-on-one psychology services. Well before the Pandemic our team of psychologists had been delivering most of their work via WebCam. So irrespective of where you are located we can help you to help yourself. Reach out today.