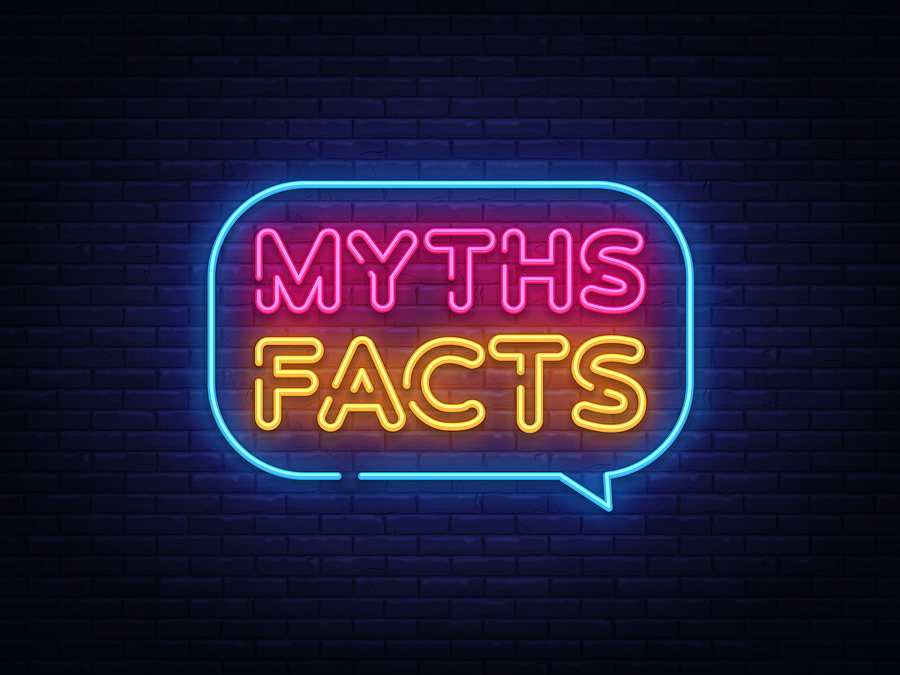 Sport Psychology Myths – Where To Start?
I am sure all professionals feel like this to some degree. That their working world is full of myths and half-truths. But due to the nature of the work we do and how relatively new our profession is I believe sport psychology is surely up there when it comes to a number of misconceptions. Below are some of our favourites – in no particular order. I use the word favourite due to both a combination of how often we come across them and the potential benefits of debunking them.
Myth 1: Sport Psychology Is Like Counselling, Therapy
This is a classic half-truth in that it is literally half correct. Some elements of the work we do have similarities to the work of counsellors, therapists or clinical psychologists. For example, the confidential nature of the relationship and we can help with mental health issues. But the other half of the process is much more likely to resemble a coach. For this part of the process, we're more likely to be talking about goals and how to achieve them.
Obviously, some performance psychologists will tend to be more like a therapist whilst others will lean more towards the coaching approach. This is one of the biggest advantages enjoyed by our clients. With such a strong and varied team of psychologists, we can literally allow our clients to tell us what they're looking for. And with very few exceptions, we can ensure their psychologists has these preferences. Do you disagree? Argue your case below in the comments sections.
Myth 2: The 'Natural Talent' Myth
This is a humdinger of a myth. The notion that we are born to be potentially excellent at something regardless of the amount of effort we put in. In my view, people confuse what they regard as "natural talent" for biological and genetic variation.
The classic example is when young athletes hit puberty and some of them suddenly become taller and heavier than their peers. Although there is no doubt these growth spurts play a role in influencing the outcomes of sporting contests, they should not (yet often are) be regarded as natural talent as there is nothing talented about your genetic makeup.
In fact, I try to get my sporting clients to stop using the word "talent" altogether. Quite simply there are performance variables that are either controllable, influenceable or uninfluenceable. What you inherited from your parents falls into the last of these three categories. Simply put you cannot influence your genetics, and therefore they should occupy as little of your attention as possible. Do you disagree? Argue your case below in the comments sections.
Myth 3: The 'Best Time to Start is' Myth
Mondays, or the 1st of the month or the old favourite January! Don't get me wrong, in much of the work we do we use time as reminders. For example, using Sunday night as a cue to plan the next seven day. However, these time point myths are often used as an excuse to delay effort.
We know this first hand by the number of enquiries we get for our Sport Psychology services based on the time of year. We still get about the same number of enquiries in December compared with any other month. However, unlike other months most people who decide to start working with one of our sport and performance psychologists delay it until January.
This is despite the fact that we continue to be available to our current and future clients right through the Christmas and New Year period. Do you disagree? Argue your case below in the comments sections.
Myth 4: The 'Thoughts Can Be Controlled' Myth
As current and past Condor Performance clients will know we're often encouraging our clients to consider the amount of control or influence they have on different aspects of their performance. Just over 10 years ago, when clients of ours added 'thoughts' to the controllable column we didn't challenge it. But recent research suggests that although we can influence our thoughts we can never control (guarantee) them. This is not to suggest that traditional thought improvement strategies (such as reframing) are a waste of time. It suggests that thoughts (as opposed to actions) should not be relied on as an essential ingredient of your performance plans.
A classic example of this is the work we do around Pre Performance Routines in start-stop sports. In the old days, we constructed short routines with both actions (put on my glove) with thoughts ("focus on just this shot"). But in recent times we have removed the thought component so our clients' routines are now all actions based. Do you disagree? Argue your case below in the comments sections.
Myth 5: The 'You Have To Feel A Certain Way To Perform Well' Myth
Same as the above basically. In fact, as humans, we have even less influence over our emotions than our thoughts. Consider extreme emotions like grief. Sure, there are a number of things that you might be able to do to lessen experiences of grief if you lost a loved one. But these kinds of interventions are only going to make a small difference. Those that imply you can control your emotions (an unfortunate number) or suggesting that you can actually make the grief go away entirely through your own volition. Do you disagree? Argue your case below in the comments sections.
Myth 6: That 'sport psychologists' are similar to 'mental skills coaches'
Possibly in terms of ability, this might occasionally be true. However, in terms of formal training and regulation, they couldn't be further apart. Sport Psychologists and Performance Psychologist (in Australia at least) are all registered psychologists. So what? This link does a better job than I ever could at explaining the benefits of choosing to work with a highly qualified and regulated professional. And this article from The Age highlights a possible 'worst-case scenario' of allowing unqualified individuals to "work on" the emotions of athletes. If the link doesn't work it's because the article has been removed but the basic details should now be permanently available via Wikipedia here. Do you disagree? Argue your case below in the comments sections.
Myth 7: That a 'sport psychologist' only work with athletes
Not true. We have been operating for long enough now and have tracked enough data to be able to answer this categorically. Yes, the majority of our monthly clients are still athletes (70%). But the rest are a multitude of different kinds of performers. From politicians to dancers to students to emergency workers. One of the most significant group of non-athletes we work with a sporting coach. A lot more detail about this kind of work can be provided in this separate blog post and this one. It is my hope and belief that as time passes, a greater percentage of our work will be with coaches. Helping mentally astute coaches become even better they working with someone genuinely qualified in this area. Do you disagree? Argue your case below in the comments sections.
Myth 8: The 'Face To Face Session Are More Effective' Myth
At Condor Performance we have been delivering sessions via video conference technology well before the Corona Virus hit us. Furthermore, we measure client satisfaction and can say with empirical confidence that there is no difference between "face-to-face" and "telehealth" sessions. In fact, according to our numbers, the clients who have all sessions via video conference do slightly better in terms of mental health and mental toughness outcomes. Do you disagree? Argue your case below in the comments sections.
Myth 9: The 'Experience Is Everything' Myth
This sport psychology myth is the easiest to believe or understand. But it's still wrong. The issue with the concept of experience is that it assumes the superior number of hours was done in the right way. It also assumed that the performer has the ability to learn from mistakes. As both of these assumptions are rare (in my experience) then in actual fact experience is overrated at best and quote often detrimental. Do you disagree? Argue your case below in the comments sections.
If you'd like to bust some more sport psychology myths have a listen to the answers to our FAQs here. Do you know of any other common sport psychology myths that are not covered above? If you do please add them to the comments sections below and we'll then add them when we update this blog. If you disagree with any of these sport psychology myths please present your argument in the comments below.