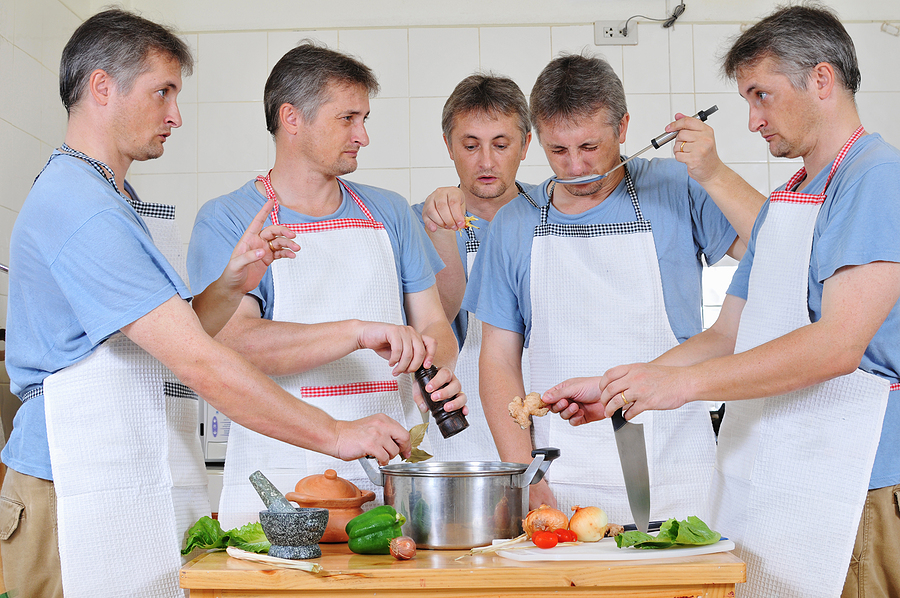 Too Many Chefs In the Sporting Kitchen!
In my work I don't actively seek any controversy. However as other trailblazers will be aware when you push the envelope regarding the work you do it comes with a certain amount of contention.
Once such area which I have always believed in but have really written about is this one. The topic of too many athletes having too many coaches. I use the word "coach" as the label to describe any official helper or advice giver. So although your grandfather would not count as a coach if chatting to you about some recent performances over a family dinner. He certainly would if he followed you down to the bowling alley twice a month and started giving you tips.
Let me start with the end in mind and work my way backwards. For team sport athletes I feel the ideal number of official coaches should be one. For those participating in individual sports the ideal number long terms is zero!
Let me explain …
The school system has it more or less correct. Teachers are generally aware of the fact that they have a limited amount of time to do their job. So although a maths teacher might be very proud of his or her contribution to someone who goes on to be a world-renowned engineer the maths teacher would not be involved past a certain point. This should be the same for developmental sporting coaches. But unfortunately it doesn't happen that way very often.
In sport the more successful an athlete becomes the more coaches they tend to attract. Many of these coaches will be well intended but problematic nonetheless. The primary issue with having five or six official advice givers (which is common nowadays) is that much of their suggestions will be contradictory. This puts the athlete into a real predicament because he or she probably wants to trust all of them. But they soon find out this is not possible as different suggestions clash. I could write an entire book on one of the reasons why the advice tends to be so contradictory. But suffice to say it's because sports coaching is still mainly based on guesswork. If you ask most coaches why they'd doing something the most common answer is this. "That's what my coach used to do".
There is also a real issue with role clarity. Which area of the "performance plane" each coach is supposed to be giving advice about is not obvious. In other words you get technical coaches giving psychological and tactical advice. You have physical coaches giving mental health and well-being advice.
What's The Solution To Too Many Chefs / Coaches?
The answer is very different depending on if you play a team sport or an individual sport. For team sports there is no getting away from the fact that there needs to be a head coach. Ideally the head coach becomes the go-between for the players and all the other experts involved. In other words you may have a technical coach who is observing the players from a technical standpoint (biomechanics). But to ensure that any messaging around biomechanics does not accidentally get in the way of the bigger picture that message needs to come from one person – the head coach.
The same would apply to a sport psychologist working with a sporting team. Having a sport psychologist deliver mental skills training without the head coach being involved is absurd. Sport psychologists sometimes get into a huff when they hear this for fear of breaches in confidentiality. Or they feel the head coach is not been qualified to deliver the mental skills. All these potential issues can be nullified by proper communication and agreements before the start of the contract.
This head coach can still work tremendously hard to make him or herself irrelevant on match day but ultimately the nature of team sports will still require them to be there before, during and after the match.
Coachless Individuals Athletes
This is not the case with individual athletes such as tennis players, golfers, surfers and boxers etc. These sports do not require a coach to be there during competition.
If you don't have to have something at this important time, why would you want it? Central to sporting mental toughness is a low reliance on factors that we have little or no influence on. Other people, even the most reliable and well intended, are are partially influenceable. What does this mean? It means that athletes who depend on "certain" things or people are risking it from a psychological point of view. Why? Because you can't guarantee these things or people will be there when you want them to be.
This philosophy, in part, explains why our team or sport psychologists and performance psychologists spend very little time with our clients whilst they are competing. Don't get me wrong if a client insists on having a session the night before a competition we will certainly oblige. But we are trained to assist our clients improve in such a way that they would not feel like they needed such a session.
Too Many Coaches
From a systems point of you I'm not sure what the answer to that too many coaches dilemma is. What I do know is this. If you are a developmental aged elite athlete (13 – 17) and you have already had close to 10 official coaches then the system has failed you. Unless of course in the unlikely event that all of those coaches are singing from the same song book. And they are unbelievably good at communicating between one another. Until that happens then less is more when it comes to the number of coaches and formal advice giver as you have.
We would like to hear from readers via the comments section below about stories on this topic. Did you have too many coaches? How did it impact you? Can you give examples of when well intended advice was contradictory? To safeguard your identity feel free to add your comment using a false name.