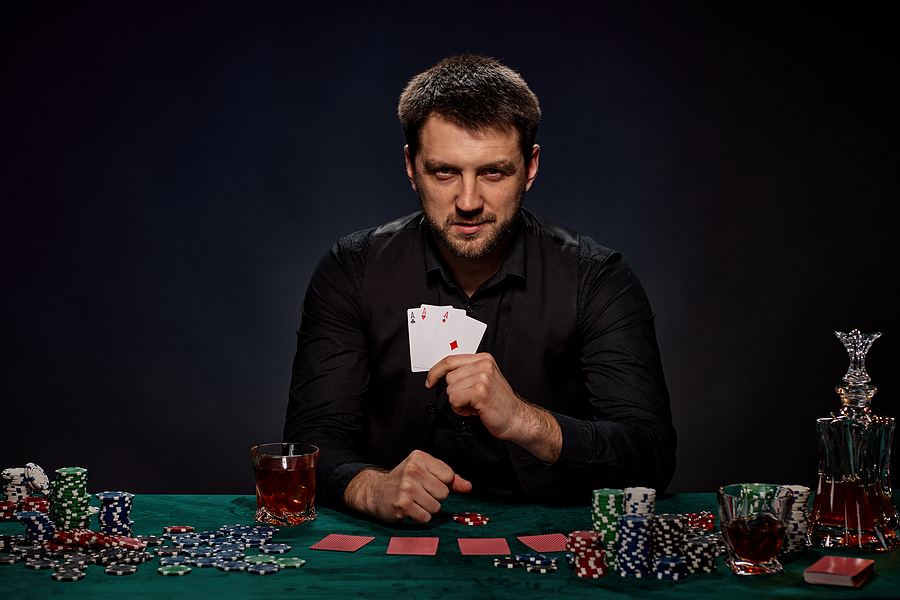 Fake It Till You Make It … or Till You Feel It!
As many of my clients and colleagues will know I'm a big fan of the concept of 'fake it till you make it'. However, potentially due to the word fake, and what it implies, this catchphrase is often misunderstood. So am I glad that I have finally had the time to write something on the subject. As always I welcome your questions and comments at the bottom of this page.
It is worth mentioning that in my consulting as a sport psychologist I typically use the term 'fake it till you feel it' rather than 'fake it till you make it'. I do this intentionally. Making it implies the reaching of a goal and in much of the work that I do continual improvement is the main aim. You may be surprised to read that often I am unaware of the goals of my clients.
Fake it till you feel it gets to the very heart of the main model that my colleagues and I at Condor Performance use to assist our clients to improve. Namely, an adaptation of Acceptance and Commitment Therapy (ACT) developed by Steven C. Hayes. The reason for the adaptation part is down to us wanting an even simpler framework. Below, is a Post It note drawing of what I would consider the bare bones of ACT.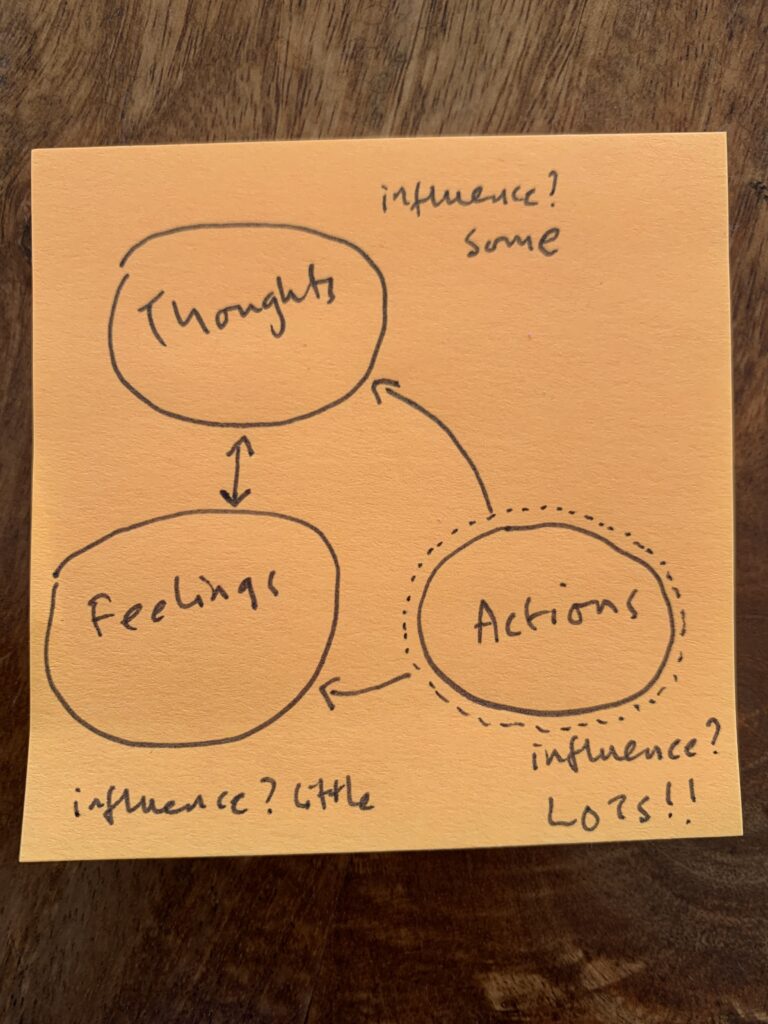 Human Thoughts, Feelings, and Actions
As you can see in the diagram our thoughts, feelings and actions are all separate from one another. The dotted line around actions is the key. Some of my clients will know this as a moat or a wall. We are trying to protect our actions from being railroaded by our very natural thoughts and feelings.
Note the varying amount of influence we have on each one. I've intentionally used the word influence rather than the word control as I find the word control can be very black or white. "I can control this but I can't control that", for example. In reality, we can't really control much at all (maybe our effort but even then it depends on how you define effort) if the word control is used as a synonym for guarantee. We just have varying amounts of influence on stuff.
Quite simply, we have more influence on our actions than our thoughts.
In turn, we have more influence on our thoughts and our feelings.
Therefore logically we have much more influence over our actions compared to our feelings.
In other words, we have the least amount of influence over our feelings by far and by far the most amount of influence on our actions. And this is especially true when these same actions (e.g. a left jab in boxing) have been repeated a lot so that muscle memory takes care of the biomechanics. Basically, you don't need to think about how to do it you just do it. Most adults who have been driving for a long time will be familiar with this feeling.
The Spectrum of Influence
Just to ram the point home, if we were to arrange thoughts, feelings, and actions into an influence ranking system actions would be at the top and feelings would be at the bottom. Thoughts would be in the middle, following?
So if we return to the fake it till you make it or fake it till you feel it concept this premise starts to become clearer as a form of psychological advice. The faking it part is actually all about body language. It is about portraying a certain emotion (or lack of) from the outside irrespective of what you're actually feeling on the inside. Faking it, certainly by my interpretation, is not about pretending to feel something that you're not.
So as explained in this previous article by my colleague Harley De Vos competence is far more valuable than confidence. Now in the work that we do this is most often in the context of the skill execution itself. But it can and should be extended to some of the less obvious actions pertaining to performance. One of these is body language. How competent are you at body language? Elite poker players seem to be the only performers who typically include working on this as part of their normal training. Maybe we all should?
Body Language Basics
One of the hidden bonuses about working on your body language is that you are effectively practicing one of the fundamental aspects of psychological flexibility. Because in working on your body language you will need to choose a way of looking – for example confident –and work out a way where your actual feeling – let's say embarrassment – does not override your facial expressions, head position, posture, etc.
Often the most effective type of body language from a performance perspective is actually very neutral. I am not one for histrionics. Great body language should keep your opponents guessing. Hence the term 'poker face'.
Conclusion
As I have become known for saying in recent years "they don't hand out gold medals for who was thinking or feeling the best". Very importantly thoughts and feelings needn't have any impact on our actions. Especially if these actions are well rehearsed. However, it is quite acceptable and normal for our actions to have a one-way impact on our thoughts and feelings. And it is with this that the rest of that concept of fake it till you make it / feel it is complete. Basically, we fake it – we act confidently from the body language perspective without necessarily being confident and this often leads to increased feelings of confidence as a result.
Has this article piqued your interest in improving either your mental health or mental aspects of your sport/performance? Then get in touch via one of these methods: ⏩ Email us directly at info@condorperformce.com and let us know more about you and how we can help. ⏩ Fill in one of our four Mental Toughness Questionnaires and tick the box at the end when it asks if you'd like to receive info about our services.