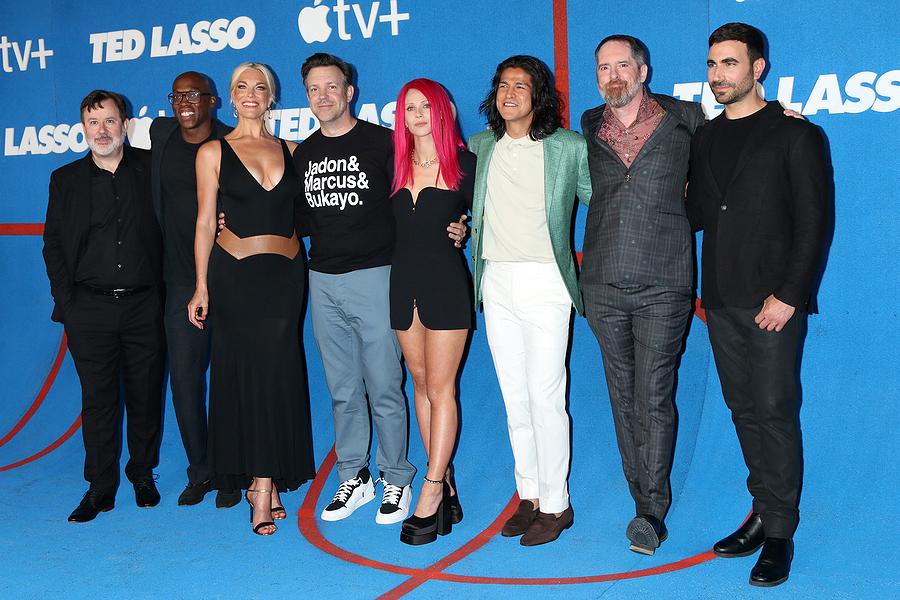 Ted Lasso Is A Brilliant TV Show But …
Let me just start by saying I'm a massive fan of the show, Ted Lasso.
For those who haven't seen the miniseries on Apple TV, it's well worth watching. The premise is a little bit far-fetched but highly entertaining. On top of the fun factor, there are some fantastic sport psychology concepts and messages contained throughout the seasons. But hidden subtly between the laughs and the logic are some lies. Due mainly to the popularity of the show I felt compelled to point out some of the aspects that are either inaccurate or unhelpful or even both.
I want to be absolutely clear that this is not a criticism of the storyline, acting, writing or premise of the show. But as an applied sport psychologist who has been working in elite sport for the better part of 15 years, there are just some things that are easier for me to spot compared with the layperson.
Ted Lasso Sport Psychology – Possibles
Before I get to the inaccuracies, I thought it would be sensible to point out a few aspects of the show that are totally possible and/or useful.
For those who have not seen it the main character Ted Lasso is an American football coach brought in to be the head coach of an English Premier League (football/soccer) team. It is entirely possible for an elite coach from one sport to pivot and apply his or her expertise in another sport. The reason for this is very simple. When we break down sporting performance into the five most important subcomponents, only two of these are highly sports-specific. Meaning three of the five parts are not. Using this logic it means that the majority of the work required at the pointy end of sport is very psychological in nature. This is the case with Ted Lasso, who is mainly operating as the team's mental coach.
Yes in 2023 it's still rare for a head coach to come from a sport other than the one he or she is known for but this is no reflection of the plausibility. The rarity is more a result of some uncreative decision-making at the Board and CEO level.
More Coaches Swapping Sports
This will eventually change. As will the frequency whereby qualified sport psychologists start becoming assistant coaches and head coaches. I talked through this latter prediction during my chat with fellow sport psychologist Dan Abrahams on Episode 103 of The Sport Psych show.
The second aspect of the Ted Lasso show that is realistic is the American's coaching style. Again without wanting to spoil it for anybody who is yet to watch it, it would be fair to describe Lasso's coaching style as laid-back and consultative. There is a lot of literature on the standard coaching styles in sports, but there is no doubt that fewer and fewer elite sportsmen and women benefit from a benevolent dictator. The players of the fictitious Richmond FC are not scared of their coach. They want to play well, in part, because they like him.
There are lots of other aspects of the show that real-life sporting teams would benefit from borrowing, such as:
Training is a healthy mix of fun and bloody hard work.
Players and coaches are encouraged to be vulnerable (I'm currently working on an article entirely dedicated towards this topic. If you are yet to subscribe to our notifications, you can do so here).
Good mental health underpins good everything else.
Ted Lasso Sport Psychology – Near Misses!
Let's start with the sport psychologist that appears from time to time in the show. The character's name is Dr Sharon Fieldstone played excellently by actor Sarah Niles. It is possible due to the popularity of the show that this depiction of this particular sport psychologist is the most visible since the professional was first conceived more than 100 years ago.
However …
Is the work that she appears to be doing in the show an accurate portrayal of what real sport psychologists do? Well, not the one writing this article I am afraid.
In most of the scenes in which we can get some sense of the topics discussed between Dr Sharon and the members of the club, she appears to be operating more as a therapist than a sport psychologist. Is there a difference, I hear some of you ask?
If not universally, there ought to be.
The majority of the work carried out by sport psychologists would ideally want to be around mental aspects of performance. At least 60% but possibly more. Sometimes the remaining work can and should be around general mental health, depending on which other qualified professionals might be available to the players and staff. Not on a single occasion can Dr Sharon be seen to be targeting an improvement in football (soccer) specific mental skills.
The Ideal
Given the budget at this level of sport, every club should have a minimum of at least two full-time psychologists working side-by-side. The first wants to be a qualified performance psychologist to predominantly target performance consistency through mental skills training. Working alongside this individual should be a non-sport psychologist who is in charge of the players' mental health. There are dozens of recognised professions that – on paper – are able to do this role. These include but are not limited to:
Clinical psychologists
All other types of psychologists
Psychiatrists
So, despite Dr Sharon using the title of 'sport psychologist' she is not really carrying out the role of one. This is confusing and unhelpful for anyone trying to get a clearer picture of what we actually do.
In other words, the work that she is shown to be doing on screen – which is very much around mental health – does not have a direct link with winning more football matches.
Note above I use the word direct very intentionally. There is now absolutely no doubt that good mental health underpins sporting mental toughness. In other words, there is a robust indirect link between the two. In the same way, good physical health underpins excellent physical capabilities such as fitness and strength. But working on mental health does not automatically guarantee sporting mental toughness. Because the latter is a separate layer of the pyramid and needs to be targeted directly by different processes.
Get Out Of The Consulting Room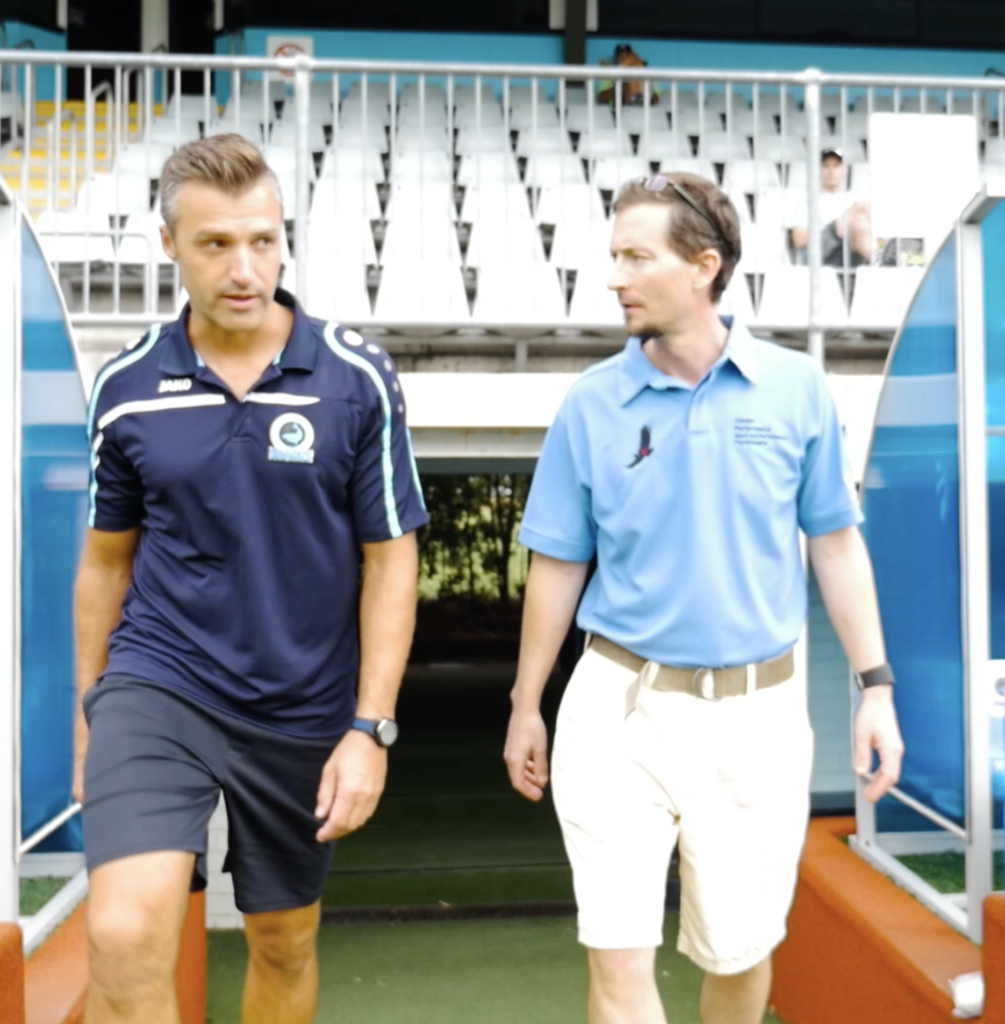 One reasonable way to get a quick idea of what the psychologist is working on is where the sessions are taking place. When I am physically in the same location as my clients very little of the work is occurring in a consulting room. It's mainly in the locker room or on the training ground (see picture to the left).
When we see Dr Fieldstone doing her stuff in the Ted Lasso show it's taking place in a consulting room. Highly valuable, but not typical sport psychology work as per the title on the door of the room.
Ted Lasso's Four Keys To Success
Throughout the episodes, there is a crescendo towards the completion of a very special list. This list is basically the four key ingredients that Ted Lasso regards are the most important for success.
Spoiler alert!
The fourth one below is only revealed at the very end of the last episode of the third season so if you are yet to get to that part, then you may want to stop reading now.
Conditioning.
Versatility.
Awareness.
Self-belief.
I don't have an issue with the first three of these. They might be fairly obvious to most operating in professional sports, but that doesn't mean they can't be added to a list. I love the second and third ones, but I wonder what processes need to be implemented to approve them. Not only in soccer/football but any sport where they could be regarded as performance benefits. But I do have an issue with the fourth one.
Self Belief Is Overrated
Self-belief is a controversial concept in modern-day sport and performance psychology. Self-belief is predominantly a collection of thoughts that revolve around how competent somebody feels they are at something.
The issue is when there is an implication that these actions need this self-assuredness. In other words, without a certain level of self-belief, the motor skills are in jeopardy … even if they themselves are highly proficient.
This is not true. Certain thoughts and feelings are (at best) a bonus to performance consistency but not a requirement. In other words, Ted, you don't need self-belief to play good football.
Given this, to improve The Ted Lasso Sport Psychology list from above I would replace the fourth item with Psychological Flexibility. And if you want a hand in improving yours then get in touch by completing the form on our Contact Us page. We will try to get back to you within two business days.